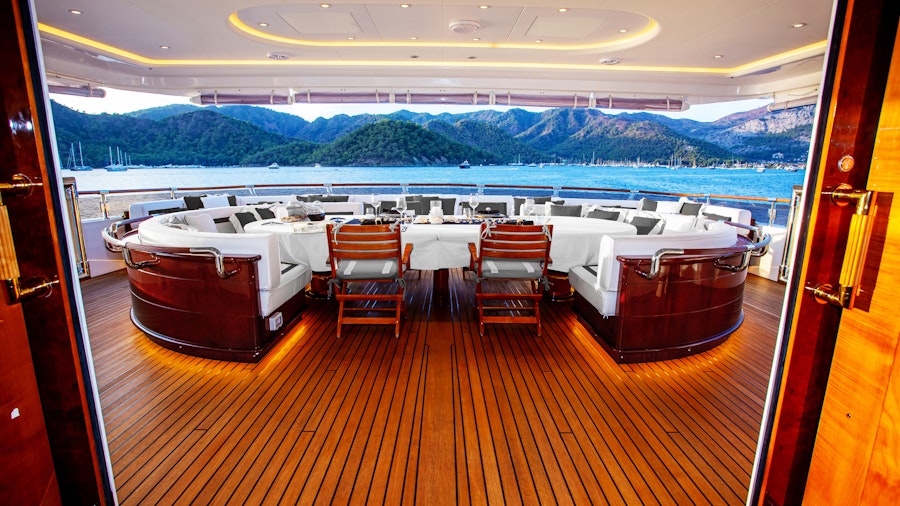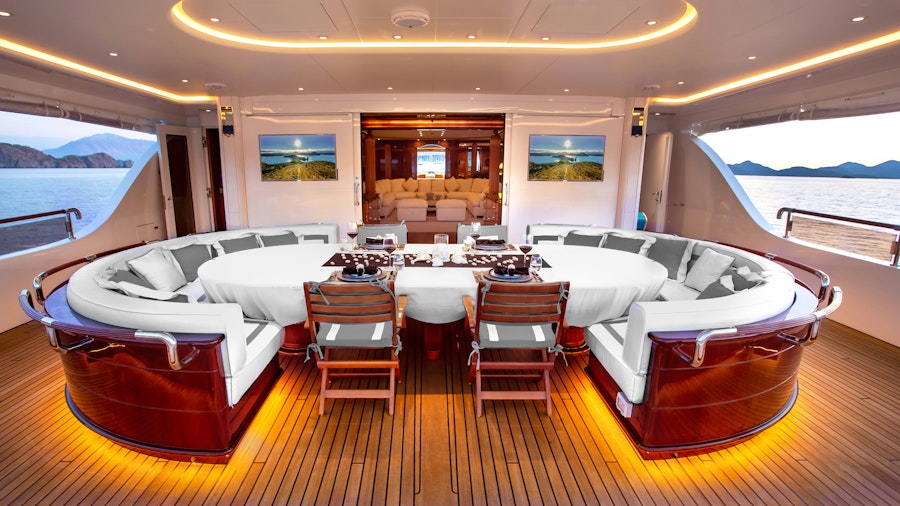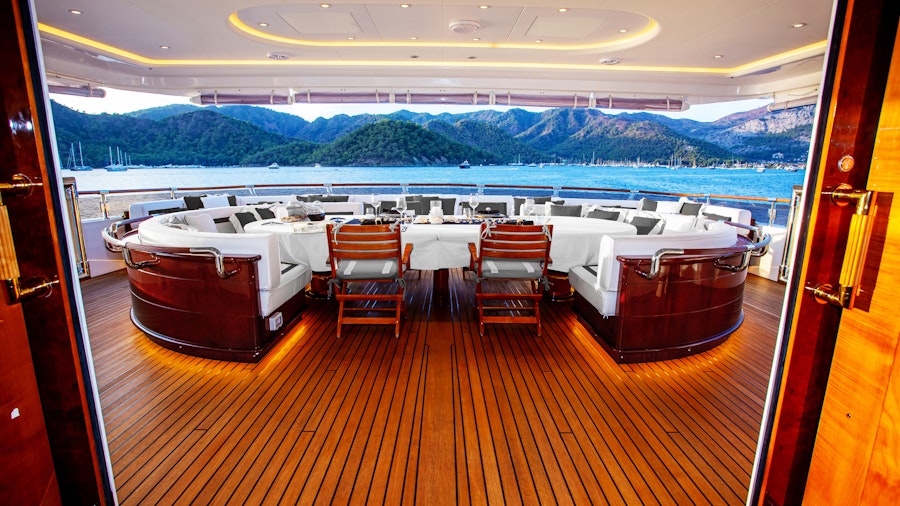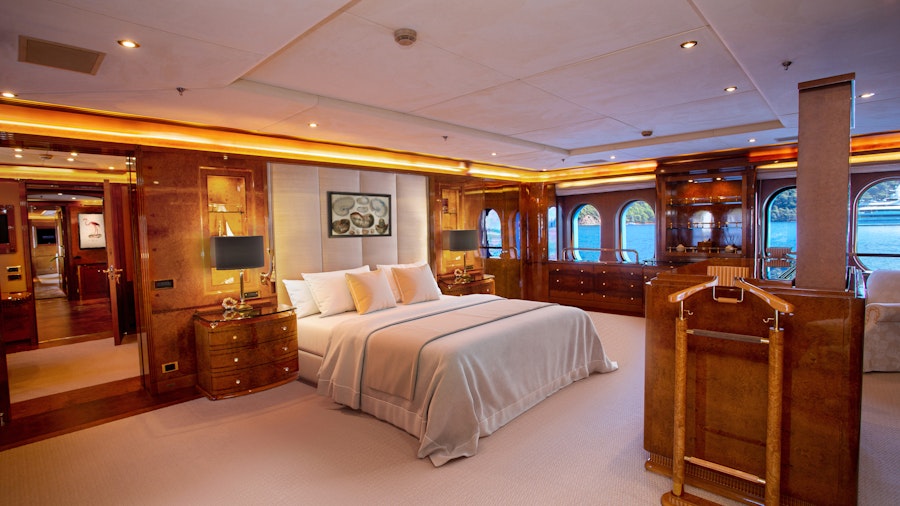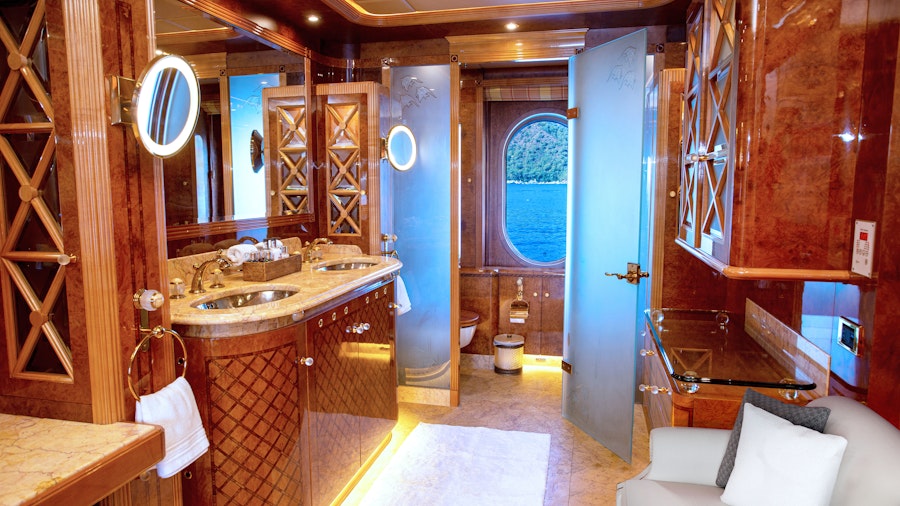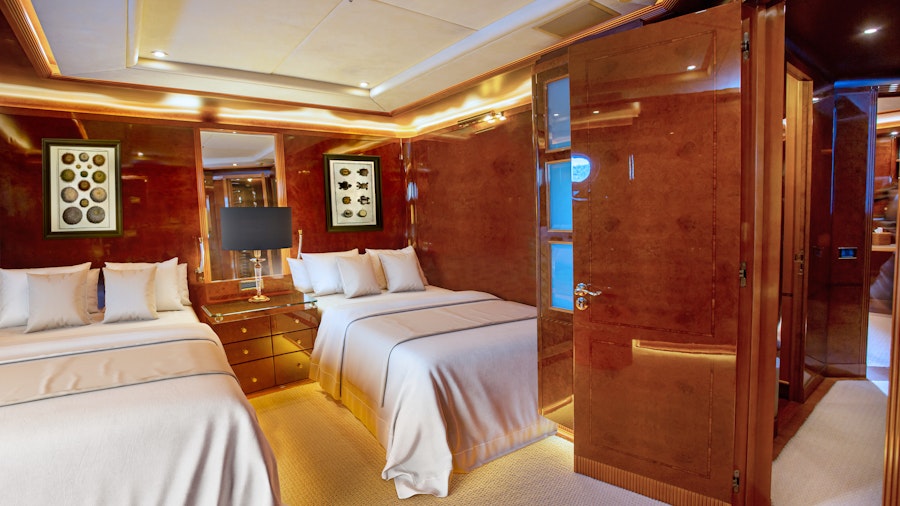 Built in 1998 by the famous shipbuilder CRN Ancona, AQUA MARE has received multiple refits throughout the years, with its most recent in 2021. Thanks to these extensive upgrades, the motor yacht is thoroughly equipped with advanced navigational technologies and high-end luxury amenities.
AQUA MARE pioneers the luxury Galapagos charter experience, transforming the standards in which charterers discover the breathtaking waters, epic animals and emerald herbage awaiting. This grandiose superyacht welcomes 16 lucky guests aboard, matched by 16 crewmembers who ensure complete seven-star service and a bespoke on-water experience. Of the crew, this charter yacht provides two naturalists to ensure that guests fully realize their explorative dreams.
Upon ascending to the main deck aft, guests are overwhelmed by the impeccable ambiance. Here, AQUA MARE offers the pinnacle of alfresco dining, providing commodious seating around the massive formal dining table that accommodates all 16 individuals. Through the giant, sliding glass doors of the main deck, AQUA MARE invites patrons into her spectacular interior, meticulously designed by the renowned Francois Zuretti. Her massive main salon hosts a central, large U-shaped sofa with spectacular views of the water. Alongside the main salon, AQUA MARE offers a well-lit, intimate office for guests needing to work or relax in private while asea.
For accommodations, the grandeur of AQUA MARE is second to none. Her palatial owner's suite boasts an 80-square-meter area – the largest suite in the Galapagos Archipelago – with its own breathtaking 20-square-meter en-suite bathroom. The additional six staterooms are no less than 20 square meters each, showcasing the incredible detailing of passionate Italian craftsmanship, design and décor. With gorgeous ambient lighting, luxurious cabinetry and plush surfaces, guests onboard will get to experience unparalleled comfort during their unforgettable charters to the Galapagos.
AQUAMARE also offers numerous opulent outdoor spaces for lounging and sunbathing. Across four decks, she features shading, sunpads, a six-person Jacuzzi, an outdoor barbecue area and even an early morning workout zone. Her unconventional beach club serves as the centerpiece of the yacht. It is the perfect place to enjoy the waters and wildlife of the Galapagos. Decorated in traditional wood paneling, this lounge provides a plush U-shaped sofa and an incomparable view of the crystalline waters ahead.
For exploration and on-water activities, AQUA MARE offers custom tenders, built to maximize comfort while exploring the archipelago. Her itineraries are custom designed with the experience of a superyacht in mind.
Inquire About Yacht for Charter
To charter this luxury yacht, contact one of our luxury charter brokers
Related Yachts for Charter
---