As countries begin to open up post-COVID-19, so do the opportunities to charter a luxury yacht and escape the confines of your home. Celebrate life with the ones you love by exploring the opportunities and options for travel this summer and beyond. With some of the world's best cruising grounds already opening up and others anticipating reopening soon, many charter yachts have confirmed their summer cruising locations.
Luxury charter yachts are a truly private and hygienic option for luxury holidays. In addition to their already rigorous cleaning standards, any are putting in place further cleaning and disinfecting protocols. Additionally, our partner in private aviation, NetJets, can provide charter guests with a stress-free, safe, hygienic aviation experience.
As travel constraints across the globe start to ease, those in the United States and Europe hoping to book a luxury yacht charter in the coming weeks and months have several destinations to consider. We will continue to offer updates on all of your favorite destinations in the Mediterranean, Americas, Bahamas and Caribbean as they open up.
Travel from the United States
Alaska
Alaska provides the perfect backdrop for a luxury yacht charter. Off-the-beaten-path charter guests can experience the pristine natural wonders such as glaciers and waterfalls as well as incredible wildlife, including whales and bears.  For those wishing to escape sooner rather than later, Alaska is now open for charter. There are, however, still state mandates that guests will need to adhere to when visiting the state.
Yachts available for charter in Alaska:
Caribbean
Escaping to the Caribbean might be an option sooner than you thought. At this time, St. Maarten is now open for charters and the U.S. Virgin Islands is planning to open to travelers on June 1. The tropical beauty and warm sunshine of St. Maarten and the U.S. Virgin Islands offer a Caribbean haven for those seeking to getaway. Bask in the sunshine, play in the waves and enjoy the yacht's selection of water toys. Additional Caribbean islands are anticipated to open in the near future.
Yachts available for charter in the Caribbean:
New England
The craggy coastline of New England offers so much to do and see. Cruise from Newport, Rhode Island, to Nantucket, Massachusetts, taking in the history and charm of the lovely seaside towns in the most luxurious setting. The states of New England have moved into Phase I of reopening, holding the promise that charter guests will be able to cruise the coastline in the near future.
Yachts available for charter in New England:
CASINO ROYALE
ZOOM ZOOM ZOOM
RHINO
TEMPTATION
BODACIOUS
The Bahamas
With more than 700 cays and isles, The Bahamas offers yacht charter guests everything from crystal clear blue waters for enjoying water toys to private beach barbecue and everything in between. Due to its proximity to the United States, The Bahamas is easily accessible to U.S. residents by flying. The Bahamas currently has a tentative reopen date for travelers of July 1.
Yachts available for charter in The Bahamas:
VICTORIA DEL MAR
TUTTO LE MARRANE
BALISTA
WABASH
TAKE 5
Travel from Europe
Croatia
Croatia is the first European country to welcome charter guests to her idyllic waters. The country still has some restrictions in place, but all nationalities are now allowed to travel to the country and cruise via charter yacht. With its old-world charm and cosmopolitan sophistication, it is easy to see why Croatia is quickly becoming the most sought-after after destination. Take in the beauty of her historic harbors and explore the more than 1,100 islands, which are a haven for those seeking seclusion and privacy.
Yachts available for charter in Croatia:
LIBERTY
ICE LADY
PHOENIX
VIVALDI
Greece
Greece has so much to offer charter guests, from the ancient ruins of Athens to the iconic Greek Isles. Discovering hidden coves, enjoying the heavenly beaches, and taking in the stunning sunsets are just a few activities that can be experienced in a day aboard a luxury charter yacht. Greece has an anticipated mid-June as a tentative time to begin welcoming visitors once again.
Yachts available for charter in Greece:
RARE FIND
MARIU
MARLA
DALOLI
SUNCOCO
Italy
On June 3, Italy will open its borders to citizens from the European Union, Schengen countries, the United Kingdom and Northern Ireland without any restrictions. The picturesque coastline has long attracted charterers who wish to enjoy all the finer things in life. From the Italian Rivera to the Amalfi Coast, Italy has a glorious culture, rich artistic heritage and mouthwatering cuisine to share with those who cruise her shores.
Yachts available for charter in Italy:
SOLO
LUMIERE II
DA VINCI
ALLURES
VESPUCCI
FRANCE/MONACO
The French Rivera has long been a magnet for summer charters. From Monaco to St. Tropez, the Côte d'Azur coastline beckons charter guests with the Med's most celebrated hotspots as well as heavenly sweeping bays. To date, France has yet to mention a date for allowing charters to resume in her normally bustling waters. The team at Northrop & Johnson is closely monitoring the French advisories and hopes to provide a tentative date in the near future.
Yachts available for charter in France/Monaco:
SHENANDOAH OF SARK
SOFICO
MOKA
BANG!
Spain
The golden Spanish Isles of the Balearic Islands are a haven for charters who visit. The area offers long sunny days, stunning beaches, and clear waters that can be found throughout the islands. Most of Spain's coastline and all of Spain's archipelagos are open. The islands are fully open to Spain nationals and foreign residents without any travel restrictions. Foreign travelers are welcome but are subject to some restrictions.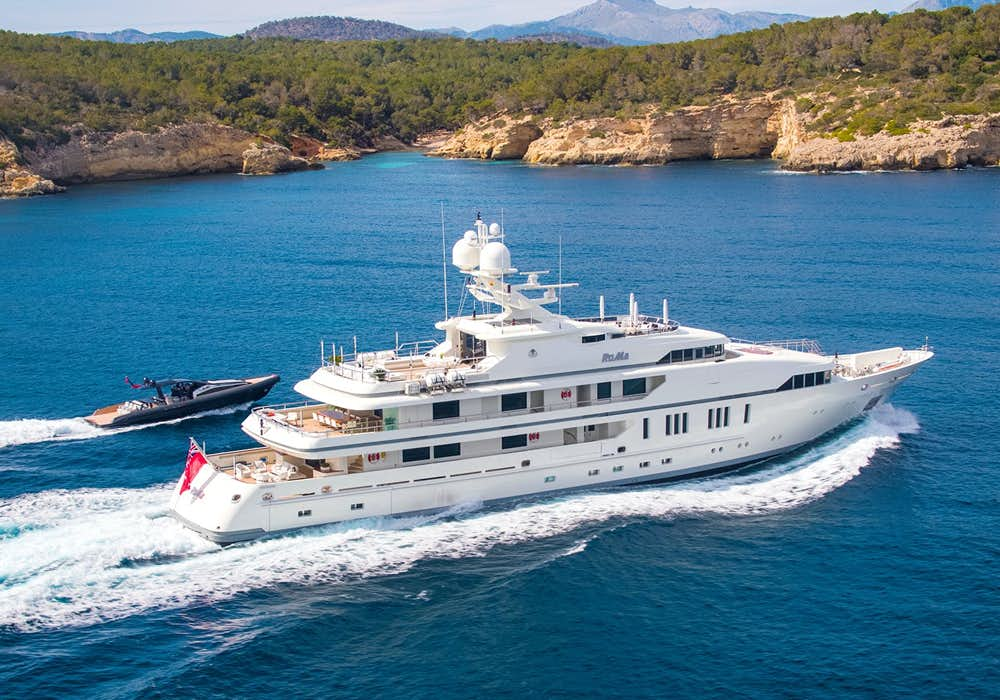 Yachts available for charter in Spain:
The team at Northrop & Johnson is closely monitoring the status of destinations around the globe; to see the latest updates, click here or contact your preferred charter broker.