After long months spent indoors living shuttered lives, the prospect of travel is more tantalizing than ever. It's time to turn those bucket list dreams into reality.
As the great author John Steinbeck said, "A journey is a person in itself; no two are alike. And all plans, safeguards, policies and coercion are fruitless. We find after years of struggle that we do not take a trip; a trip takes us." Today's strong desire to explore re-gained freedoms – perhaps venturing to the otherworldly landscapes and mythical coastlines of the Norwegian Fjords, for example – remains tempered by the wish to travel within a safe family bubble. Yachts provide an ideal solution to this conundrum, offering the opportunity to travel while mitigating health risks. So, throw off the bowlines and consider these bucket list adventures.
Tantalizing Thailand
Ready to level up the traditional Caribbean experience this winter? Turn your attention to the far-flung cruising grounds of Southeast Asia and the shimmering blue waters of Thailand. Deserted islands, pristine beaches, amazing underwater life, and well-protected anchorages make the Andaman Sea, with Phuket as its hub, the reigning maritime jewel of the southern hemisphere. Whether exploring Buddhist temples or diving over coral, a yacht charter through this stunning adventure playground can be both restorative and educational.
How?
The 111'7″ (34m) XANADU is perfect for island-hopping and cruising from bay to bay.
Fully refitted to the highest of standards, guests will enjoy every moment on board while cruising through the Andaman Sea. Retreat to the sauna on the lower deck to relax and unwind or up to the covered flybridge complete with bar, barbeque, sunpads and a spacious alfresco dining area. Prices from $75,000 per week, plus expenses, for up to eight guests.
Give back
There are plenty of conservation programs for waterborne guests to support while cruising in the Andaman Sea. You could even join your own exclusive conservation project, planting fragmented coral frames, participating in an organized beach or reef clean-up, or monitoring marine life through organizations like the Blue Marine Foundation. bluemarinefoundation.com
When?
November to March
Wild Isles of the Galapagos
With our global radar focused on the protection of our planet, a visit to the Galapagos Islands has never been more relevant. Northrop & Johnson Charter Broker Patricia Finnegan described her Galapagos visit as "the trip of a lifetime, definitely a bucket list experience." A real-world example of the land that time forgot, the islands' remote location offers visitors a unique opportunity to step back in time to a world as it might have looked before humans walked the earth. It is also an eye-popping example of how a wide variety of species can co-exist with their environment, and how the changes to our natural world impacts them. For nature lovers, cruising the Galapagos is pure catnip. For children, these cruising grounds offer an educational and highly interactive experience which, as the future guardians of this planet, is invaluable to their personal development.
How?
The 164' (50m) AQUA MARE is the perfect explorer charter yacht for cruising the Galapagos.
Offering accommodations for up to 16 guests with a 1:1 crew-to-guest ratio (including two crewmembers who are professionally trained naturalists), she is the most opulent luxury yacht available in the region. Prices from $196,000 per week.
Alternatively, become one with nature aboard the 141'(42.8m) INTEGRITY. Sleeping 16 guests in nine cabins, she, too, has all the amenities required to explore the Galapagos. Step straight off the swim platform onto her kayaks or Zodiac tenders and discover the incredible wildlife that has been roaming these unique islands since time immemorial. Prices from $90,000 per week.
Giving back
A trip to the Galapagos drives home the importance of the natural world. There are a number of important conservation projects in this region, like the Charles Darwin Foundation www.darwinfoundation.org or the Galapagos Conservancy www.galapagos.org.
When?
December to May
Antarctic Polar Expedition
For the most intrepid of explorers, Antarctica is the final frontier. Almost entirely covered in ice year-round, the spectacular landscape is home to a huge array of wildlife, including penguins, seals and numerous whale species. Embark on an unforgettable exploration interacting with gargantuan icebergs, unique wildlife, and remote places and return home with incredible memories. This is Bucket List Nirvana.
How?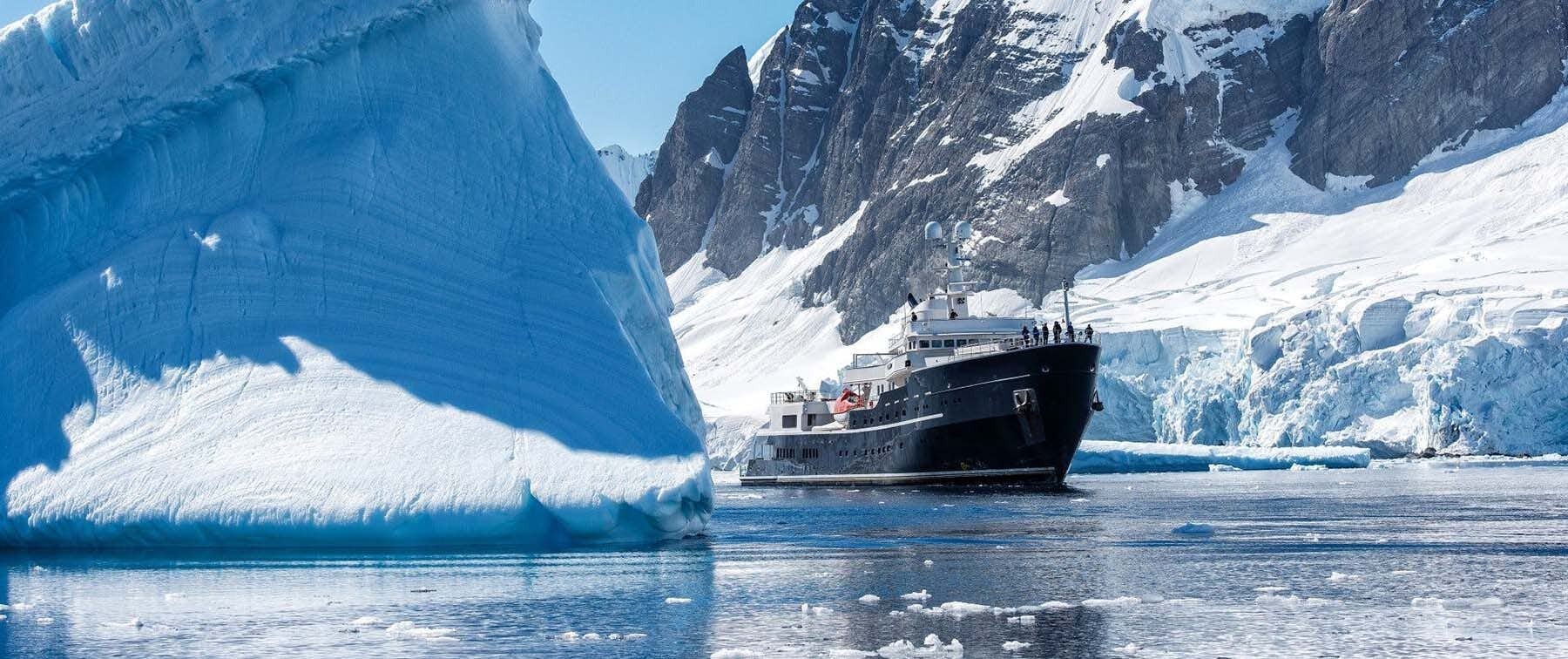 Experiencing Antarctica aboard a purpose-built ice-breaking exploration yacht like the 253'11"(77.4m) LEGEND is the best way to discover this otherworldly continent.
Giving back
Donate to the Blue Marine Foundation (BLUE) and assist in their mission to have over one million square miles of the Antarctic designated a protected area. www.bluemarinefoundation.com
When?
November to March
Alaskan Voyage
For those seeking adventure while cocooned in the luxury of a superyacht, Alaska's Inside Passage is just the ticket. Follow in the wake of the Haida and Tlingit peoples as you thread through the narrow straits and glacier-carved fjords, cruising from Alaska's capital Juneau through the twisting Sergius Narrows to Sitka and the Glacier Bay National Park. With no shortage of outdoor activities to keep all ages entertained, North America's greatest wilderness is one massive adventure playground for the yacht-borne. From hiking and cycling to kayaking and fishing, Alaska abounds with natural splendor both on land and in the water.
How?
The 157' (47.9m) MIRABELLA is equipped with an extensive array of tenders and toys perfectly suited to exploring Alaska's beautiful scenery, while the sundeck is the ideal spot to take in the stunning views as you cruise through the Inside Passage.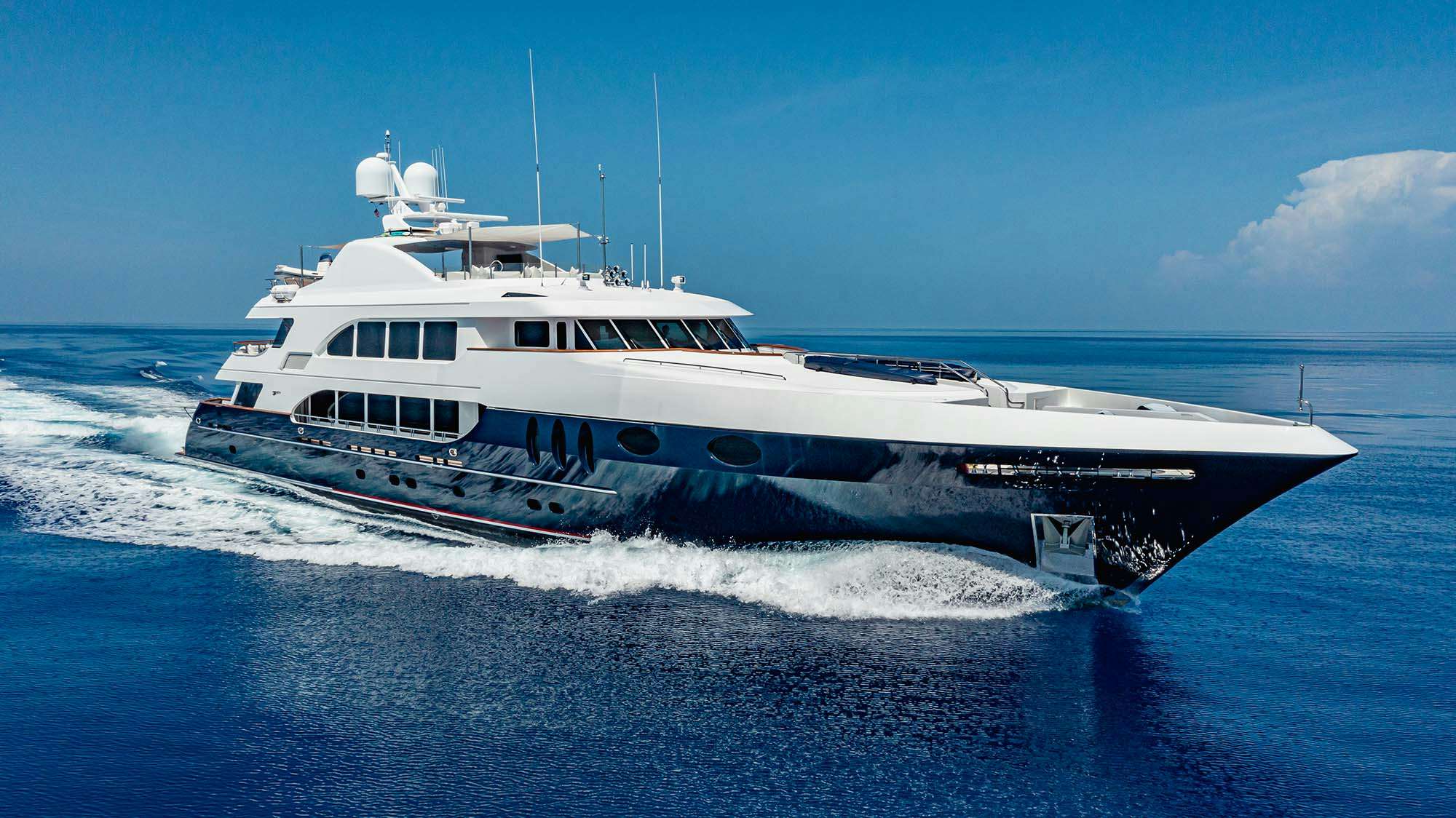 Prices from $160,000 per week for up to 12 guests.
The 130' (39.61m) SERENGETI spends her summers cruising the great outdoors of Alaska's stunning coastline. A world-traveled charter guest writes, "The experience of cruising through the Inside Passage of Alaska aboard SERENGETI was a once-in-a-lifetime memorable occasion and must go down as one of my favorite charters." Prices from $130,000 per week for up to 12 guests.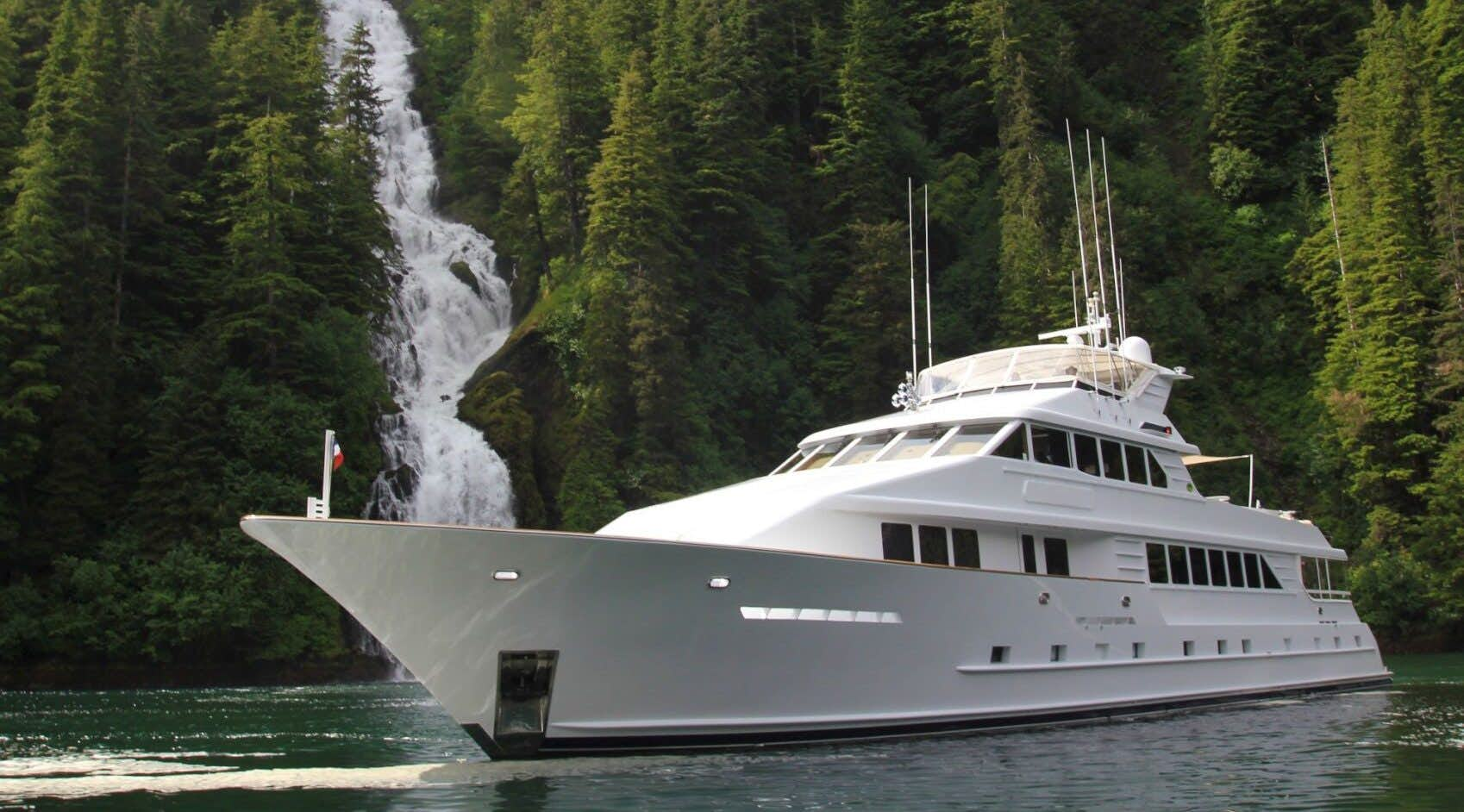 There are few better ways to take in the breathtaking views of Alaska's coastline than from the decks of the 122' (37.19m) SERENITY 122. Her enclosed alfresco flybridge invites whale-watching or bear-spotting in comfort, while the toybox is fully equipped for every Alaskan adventure. Prices from $110,000 per week for up to eight guests.
Give back
From educational and cultural programs ashore to the protection of Alaska's marine ecosystems afloat, there are several ways to get involved in community and ocean conservation activities while cruising the Inside Passage. Organizations such as the Alaska Marine Conservation Council (AMCC) www.akmarine.org, and The Conservation Fund www.conservationfund.org are but a few recommended initiatives.
When?
May to September
"Midnight Sun" in Norway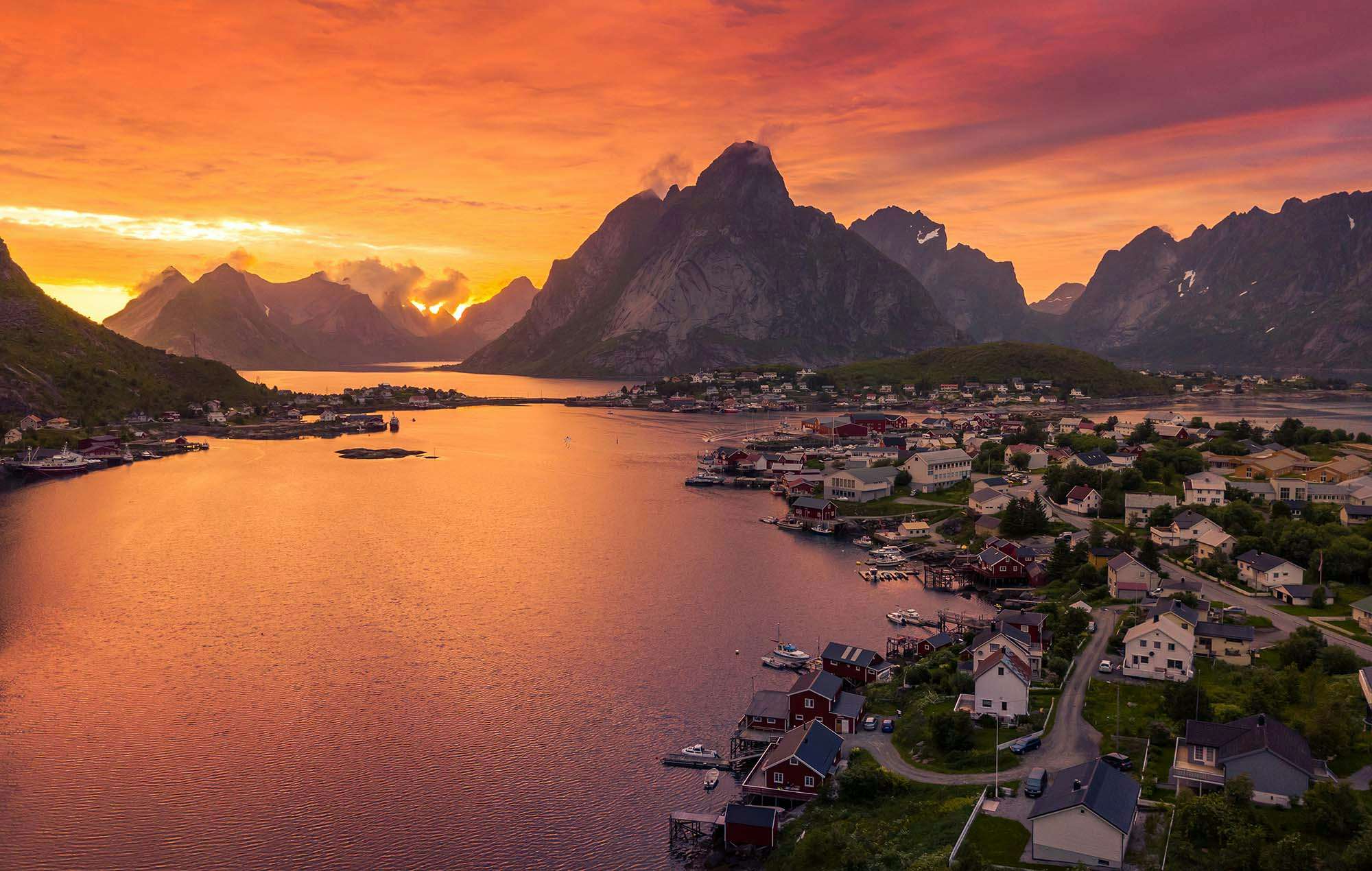 Best enjoyed from the decks of a superyacht, the fascinating Norwegian coastline offers Nordic scenery on an epic scale. The timeless quality of vistas that have changed little over the centuries creates a unique atmosphere together with a wonderful feeling of peace and tranquility.
Giving back
Nordic countries are at the top of the sustainability rankings, and, as such, there are several conservation programs with which superyacht owners and charterers can get involved, including Oceana's overfishing campaign. www.oceana.org.
When?
June to August (for the Northern Lights, aim for October to March)
Costa Rica's Adventure Playground
From zip-lining and horse-riding through the rainforest interior to world-class surfing and scuba diving on the coast, Costa Rica is a natural playground for adventures. One of the most biodiverse countries in the world with over half a million indigenous wildlife species, including a variety of marine life, Costa Rica has no less than 28 national parks, three of which are designated UNESCO World Heritage Sites. A superyacht charter allows you to discover a variety of cruising areas only accessible to the waterborne. Time it right and you could even come across dolphins, hammerhead sharks, humpback whales and turtles during your charter.
How?
Cruise along Costa Rica's Pacific Coast aboard the 76'(23.3m) catamaran THUNDERBOLT. Prices are from €60,000 per week for up to six guests.
Giving back
From helping with data collection on Costa Rica's rich marine life to tagging leatherback turtles, there are plenty of opportunities to become involved in conservation programs along Costa Rica's "rich coast".
When?
November to April
A bucket list experience to such beautiful, natural locations underscores the need to protect our planet. Northrop & Johnson is delighted to offer advice on responsible travel, from carbon emissions offset to local contributions. For more information on planning your bucket list adventure, contact your Northrop & Johnson charter expert.
Book A Luxury Yacht Charter Today
Please fill out the form below or contact your preferred Northrop & Johnson charter broker to book a luxury yacht charter vacation or get help finding the perfect yacht for charter today.