Offering equal measures of historical charm & modern luxuries, the bustling city of London is an ideal weekend destination.
To quote well-worn wisdom by Samuel Johnson, "When a man is tired of London, he is tired of life." But with an ever-increasing range of diversions on offer in the English capital, it's hard to imagine any man, or woman for that matter, facing boredom anytime soon.
London and luxury are practically synonymous. Beyond being the literal home of royalty, the city plays host to lavish hotels, high-end spas, Haute shopping, private clubs and fine dining. For those seeking intellectual pursuits, London is awash in museums, theaters, opera and art exhibits. No matter your fancy, there is something for every taste.
Even simply walking around the city is a stimulating exercise, noticing how the beautiful old Victorian and Georgian architecture contrasts with the modern marvels of today's skyscrapers. London is second only to Dubai in terms of interesting high-rise buildings, and the glass-like Shard that towers over the London Bridge Quarter is the tallest building in Europe. With roots dating back to Roman times, London is a place where ancient and modern artfully combine. Walking along the River Thames, this blend of old and new is palpable as the skyscrapers rise over the already intimidating dome of the 14th century St. Paul's Cathedral.
The rush of the tidal Thames brings water to the heart of the city, which expands out from its banks. The houses of Parliament, Big Ben's tower and even the newer London Eye observation wheel take up residence on the river. While London is not a coastal city, it is far from land-locked, and superyachts can sail in and find suitable berths at St. Katharine Docks or along the Thames itself. There is perhaps no lovelier sight than a yacht cruising under the iconic Tower Bridge.
Take time off the yacht to stay in London's fabulous hotels. One of the finest five-star hotels is the Corinthia Hotel London, housed in a distinguished Victorian building that dates back to 1885. The 294-room hotel has 45 luxury suites and seven penthouses. The ultimate Royal Penthouse, set on the roof, spans two floors connected by a private elevator and is the largest two-bedroom suite found in London. An adjacent butler's kitchen and wine cellar make for easy entertaining in the private dining room for 10. When the weather allows for dining outdoors, the Corinthia has recently opened its new Garden Lounge, ideal for alfresco meals and late-night drinks in the summer. Perhaps enjoy a cigar as well as the lounge's humidor has more than 53 varieties on offer.
If boutique hotels are more your style, there is no better than Blakes in South Kensington. Known as the first luxury boutique hotel, Blakes was created in 1978 by designer Anouska Hempel and since its inception has offered unmatched style, service and privacy. Inspiration for the heady interior comes from India, China, Thailand, Cambodia, Egypt, Italy and, of course, London. The eclectic interior includes real artifacts from around the world. The Signature Suites are uniquely designed by Hempel to be the "last word in romantic luxury" and feature super-sized king beds and high-end appointments.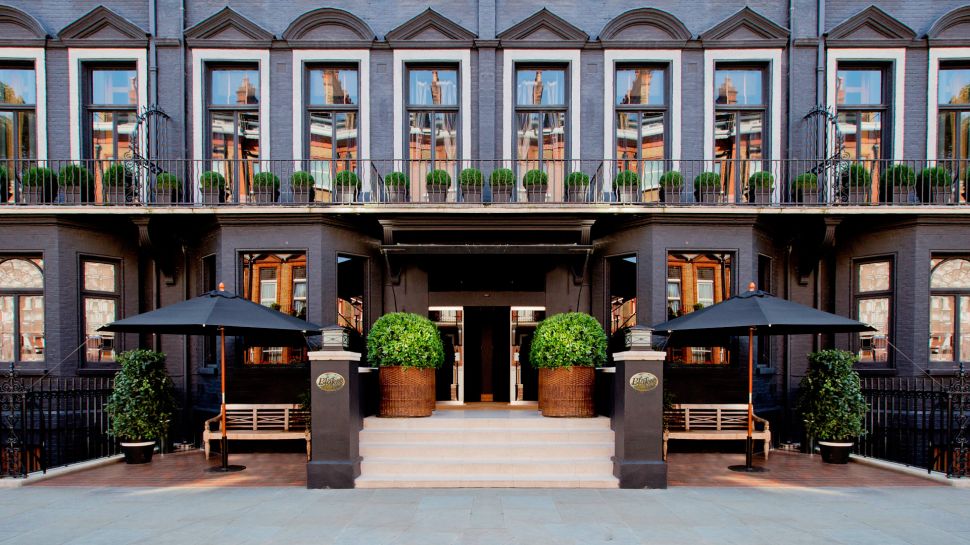 When it's time for a tipple or nibble, London won't disappoint. There was a time when English fine dining was a contradiction in terms. Today, London is one of the foodie capitals of the world, offering delectable fare in every genre and proving that British cuisine is as gourmet as any. Throw a stone and hit a Michelin-star restaurant, with more than a dozen alone in London's best hotels. The Dining Room at The Goring received its Michelin nod in September 2015, as did Fera at Claridge's, both utilizing the finest British produce in their stunning cuisines. There are always new restaurants opening in London, such as the upscale Sexy Fish, an Asian-influenced seafood restaurant with custom art by Damien Hirst that has welcomed a non-stop parade of VIPs and celebrities. For an unmatched view of the city, visit the Sky Garden at the top of 20 Fenchurch Street, lovingly known as the "Walkie Talkie" building to London residents for its widening form. Enjoy 180-degree views of London from your perch 500-feet in the sky with a signature cocktail in the indoor garden and then dine at the gourmet Fenchurch Restaurant.
As home to some of the preeminent yacht designers in the world, London also houses the top shops for luxury interior appointments and artisans with which to furnish your yacht. Wander the streets of Kensington, where you'll find one shop after another brimming with fine leathers, chandeliers and wood furnishings begging to be taken on board. Perhaps it's a real showstopper you're after — a piano from Goldfinch will fit the bill. Part of 1066 Pianos, Goldfinch is a family business in Cambridge, England, creating utterly gorgeous pianos that are works of art as much as instruments. From the creation, the gleaming Crystal Piano, a Steinway embellished with a half-million Swarovski crystals, to the collaboration with London-based Based Upon for the gold-covered Baby, which is an architectural baby grand unlike any other, Goldfinch's offerings truly embody luxury design. Of course, London offers much more than yacht furnishings. Bond Street has every posh brand the world over, from Chanel to Alexander McQueen, Fendi to Harry Winston.
After a day of shopping, the spa beckons. The ESPA Life at Corinthia is an exclusive haven designed for relaxation and wellness spread over four floors. Try the vitality pool and steam rooms before enjoying an age-defying facial. Just across the river, visit the agua Bathhouse and Spa at the new Mondrian Hotel in London. This modern and bright white spa is petite but potent in its excellent treatments. Leave London perfectly invigorated and relaxed, but certainly never, ever bored.