If there's one category of car that belongs to the British, it is surely the classic Grand Tourer or "GT."
Although equally synonymous with the 1950s and 1960s, when French and Italian marques used the initials on countless models, the actual act of motorized "grand touring" arguably dates from the 1920s and 1930s when wealthy British automobilists realized that they not only had the time and the money to explore "the continent" (as they termed mainland Europe), but also a wealth of stylish cars that were sufficiently fast, comfortable and reliable to make the journey a pleasure. Among favored routes was the one from Calais to the French Riviera, a journey that led to the celebrated "Blue Train race" in which Bentley Boy Woolf Barnato laid a bet that he could not only beat the locomotive that regularly made the journey from Cannes to Calais, but that he could be relaxing in one of London's more exclusive clubs before the Blue Train had even made it to the northern port.
Despite being stopped and fined by the police for racing on a public highway, having to slow down for fog and losing time trying to find fuel, Barnato and his Bentley Speed Six made it to the Conservative Club on London's St. James's Street just in time — four minutes before the train drew to a halt in Calais. Bentley, famous for its "grand tourers" ever since has now set a new Grand Tourer benchmark with its latest Continental GT described here — although it's not the only U.K. car that's capable of munching the miles with ease as this British GT selection demonstrates.
Rolls-Royce Wraith
Tradition has it that Bentley makes cars for the sporting aristocrat, while Rolls-Royce makes car for those who would really rather be chauffeured, but that was all turned on its head with the arrival of the Rolls-Royce Wraith in 2013. This butch-but-beautiful two-door coupe was described at launch by the marque's CEO, Torsten Muller-Otvos, as "the ultimate gentleman's Gran Turismo" thanks to the 624-horsepower churned out by its mighty, V12, twin-turbocharged engine and dynamic handling traits that enable it to be hustled through the type of twisty roads more usually suited to compact Italian sports cars. This sporting side is further enhanced in the latest "Black Badge" version of the Wraith, a special model aimed at younger drivers, which is lower, meaner, sharper and more aggressive. The famous Rolls-Royce radiator grille gets a moody, blackened finish that is carried through to the boot lid trim, air inlets, exhaust tailpipes — and even the legendary Spirit of Ecstasy mascot itself which, according to the blurb "mutates into a high-gloss black vamp, proudly scything through the nighttime cityscape." And who wouldn't be proud to cross the city — or an entire continent — in a Wraith?


Engine
6.6 liter, twin-turbocharged V12 623bhp
0-60mph
4.4 seconds
Top speed
155mph (limited)
Fuel consumption
18mpg
Cost
From $400,000
Bentley Continental GT
The Bentley Continental GT marked a major change of fortunes for the once-ailing marque when it was launched in 2003. The first Bentley to be produced using mass production techniques and the first to emerge after the Volkswagen Group's takeover of the upstanding British firm, its six-liter, W12 twin-turbo engine and four-wheel drive gave it a top speed of 180mph to match its muscular, coupe bodywork. Made available in numerous editions, including high-performance models and convertibles, the Continental GT has become far and away the best-selling Bentley of all time with more than 65,000 built. Following the introduction of the restyled and upgraded second-generation model in 2011, the Continental GT has now entered its third phase. Lighter, more powerful, more economical, better handling and better equipped than its predecessors, it has already been acclaimed as the best GT car on the market. Currently available only with the W12 engine, the car features a Porsche-designed chassis clothed in lightweight aluminum bodywork with an interior trimmed — of course — in the finest, hand-stitched hide.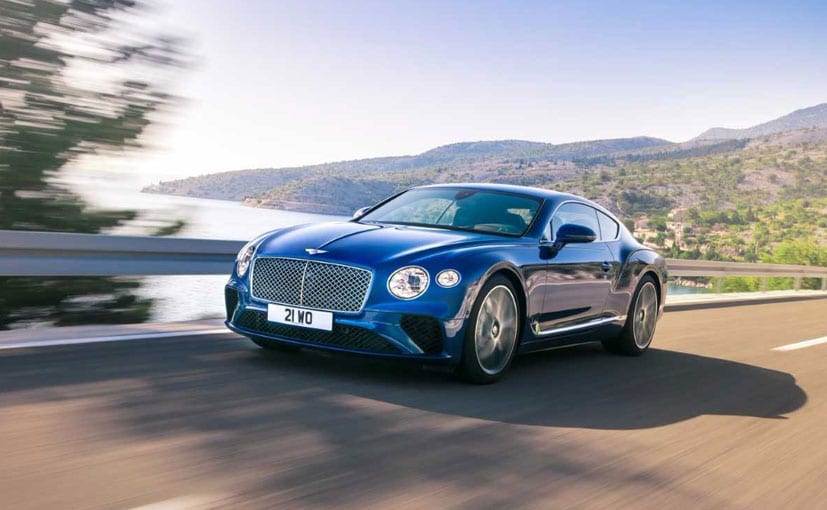 Engine
6 liter, twin-turbocharged W12,
626bhp
0-60mph
3.6 seconds
Top speed
207mph
Fuel consumption
23mpg
Cost
From $285,000
David Brown Speedback GT Silverstone Edition
David Brown Automotive was established in 2014 by automotive entrepreneur David Brown to build 100 retro-inspired grand tourers based on the platform and powertrain of a Jaguar XKR but featuring bespoke, coach-built aluminum bodywork and tailored interiors — meaning each car take 8,000 hours to complete. A recent move to new premises beside the Silverstone race circuit inspired the creation of this special version called the "Silverstone Edition" that takes styling cues from the early days of jet aviation, hence the "Fly by Night" tungsten silver paint job, a more streamlined body, 20-inch "Afterburner" wheels and a jet-inspired exhaust system. Rear windows are dark-tinted for a "stealth" look, while the aviation theme continues inside with "brogue" and embroidered antique leathers, scorched wood veneers, Alcantara surfaces and beautifully executed details such as aluminum air vents reminiscent of the blades of a jet turbine. And, while the regular Speedback has two rear seats, the Silverstone Edition does away with these in favor of a luggage platform that can be accessed from the main rear load area, which houses a fold-out picnic seat with a base that can be customized to store cameras, shotguns or fishing tackle. Currently, buyers of the Speedback GT must make their own arrangements for importing the car into the U.S.


Engine
5 liter, supercharged V8
510bhp
0-60mph
4.6 seconds
Top speed
155mph (limited)
Fuel consumption
25mpg
Cost
From £744,000
Aston Martin DB11
Launched in 2016 as a replacement for the aging DB9, the DB11 is a two-plus-two grand tourer that, according to Aston Martin's CEO Andy Palmer, "could be the most important car in the history of the company." The beautifully flowing aluminum bodywork designed by chief creative officer Marek Reichman represents a masterclass in automotive aerodynamics, with its rear "AeroBlade" vents playing the part of "virtual spoiler" to channel wind through discreet, side-mounted intakes and out through slots at the back to form a jet of disrupted air that reduces lift. Under the huge clamshell, hood buyers can opt for a twin-turbocharged V12 engine in the ultra-performance "AMR" model or a V8 turbo supplied by Mercedes-AMG and mildly adapted to provide a more Aston Martin-like exhaust note and driving characteristics. In my opinion, the smaller-engine version is the more desirable of the two, despite being less "extreme" than the V12. And, of course, it offers that wondrous V8 growl that no one understands better than an American car fan.


Engine
5.2 liter, twin-turbocharged V12 630bhp
or 4 liter, twin-turbocharged V8 503bhp
0-60mph
3.7 seconds/3.9 seconds
Top speed
208mph/187mph
Fuel consumption
20mpg/24mpg
From $200,000
McLaren 570GT
Since the 570GT has a 62-horsepower engine and a 204mph top speed, many might expect it to be McLaren's ultimate high-speed offering, but not only is it from the marque's so-called "entry-level" Sports series, it's also the gentler touring version; the 570S officially being the "performance" model. Although its racetrack looks might give the impression that it's a hard-core competition car rather than a practical tourer, the 570GT is quiet, incredibly smooth, superbly refined and irrationally comfortable — it really is one of those cars that, once you're settled into the driving seat, you just want to keep ongoing. There's even a trunk to hold a worthwhile amount of (soft) luggage, a proper glovebox and, yes, a cup holder. Although there are several faster, more expensive options in McLaren Automotive "Super Series" and "Ultimate Series," the 570GT would certainly be my choice as a relaxing, high-speed continent crosser.
–

Engine
3.8 liter, twin-turbocharged V8 562bhp
0-60mph
3.4 seconds
Top speed
204mph
Fuel consumption
26mpg
Cost
From $198,000