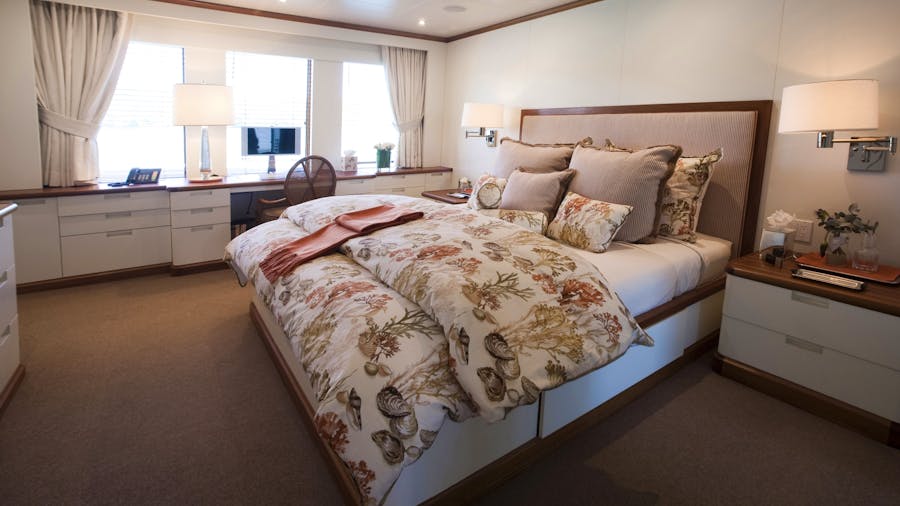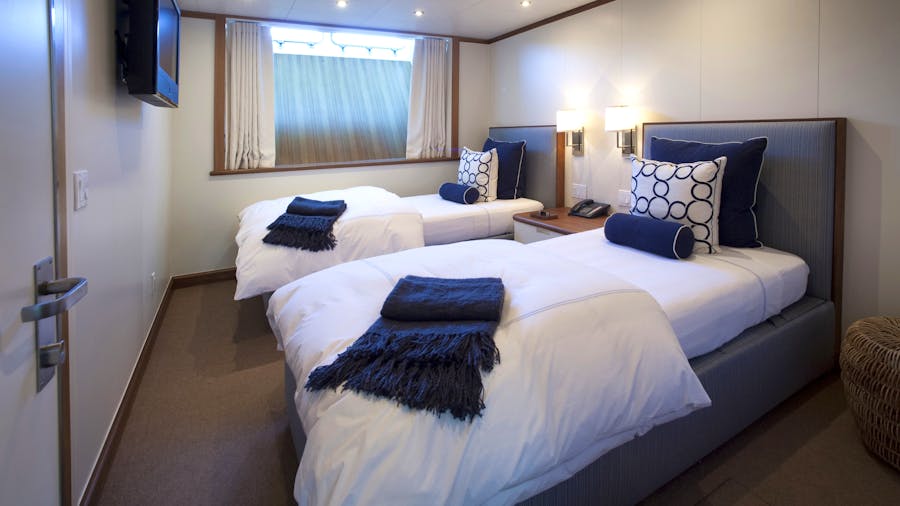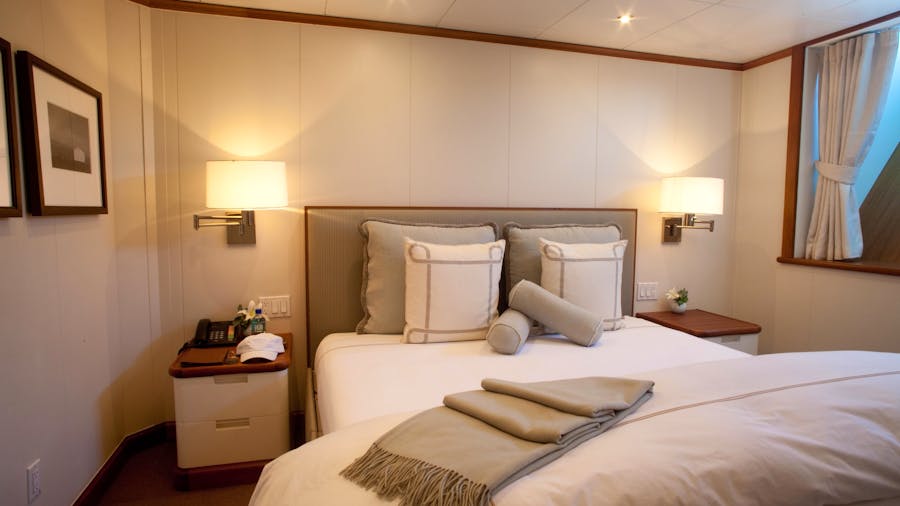 SuRi welcomes up to 12 guests and has seven pristine staterooms. She carries 10 crewmembers who will cater to guests' every need. The staterooms are comfortable and beautifully styled, each with its own color palette and accessories. Beautiful marble en-suite bathrooms provide privacy and impressive views.
The communal interior spaces of SuRi are exquisite. One of her most unique features are glass panels inlaid into the floor of the main salon providing guests with incredible underwater views. Light fabrics and sumptuous furnishings create a modern, beachy vibe aboard. Massive windows abound, ensuring there is abundant natural light and views of the cruising grounds.
SuRi features a full gym as well as a massage room/steam bath. Her full entertainment suite is perfect for guests who wish to relax at the end of a full day spent on the water.
Seasonal Rates
Summer Rates
2020 Season. Rates p/week + expenses
Cruising Regions
Winter Rates
2020/2021 Season. Rates p/week + expenses
Cruising Regions
Features
Exceptional array of water toys and tenders
Onboard masseuse and spa room
Has sent a new benchmark in the superyacht world for luxury and adventure
Tenders & Toys
AVIATION EQUIPMENT - CONDITIONS APPLY ON USE AND EXTRA COST
HELICOPTER - Eurocopter A - Star 350B, Year 2006, Pilot and 5 passengers
SEARAY seaplane – 2 person seaplane amphibious aircraft.
TOYS Added to the Collection 2016:
1 x Mastercraft X10 Wakeboarding and Watersport Speedboat with a selection of wakeboards and skis
1 x Zapata fly board with a variety of boots to fit all sizes
1 x Zapata hover board with variety of boot sizes
4 x Yamaha FX High Perfomance 1.8 Jet Ski's in Black and Blue
1 x Yamaha Superjet Race Performance Stand Up Jet Ski in Black and Blue
Dive Equipment:
NUVAR compressor which fills 2 bottles in 15 minutes.
18 Tanks (80's) Aluminium
8 Full BCD kits with Regulators
15 Dive Masks
Full line of short and long 3 mil wet suits
WATERSPORT EQUIPMENT
Adult Connelly Water Skis
Child Connelly Water Skis
4 Paddle Boards
3 surfboards ranging from 5' to 8'
Variety of kneeboards, wakeboards and scurfboards
SeaDoo Towable inflatable for 3 person
Super Mable inflatable for 3 person
O'Brian inflatable for 2 person
Yellow banana boat 4 person
2 Single Kayaks
2 Double Kayaks
1 Hobie Cat for 4 persons
1 Heritage Single Rowing Boat
1 Heritage Double Rowing Boat
Snorkeling Gear
Complete Scuba Diving Gear
Fishing Gear for Trawling / Jigging
Variety of big game fishing gear
Freestyle cruiser inflatable water slide 11m
2 Seabob underwater scooters
SPEEDBOAT & TENDERS
Stan-Craft Wooden Speedster (Open Boat) with 600hp Inboard Engines – 1997 deluxe vintage boat that has been fully refurbished with Mahogany wood and comfortable seats; 30 feet in length and can carry 6 passengers; maximum speed of 40 knots.
Intrepid Center Console 37 feet (11.3m) with 2 x 350hp V8 Yamaha 4-stroke Outboards – maximum speed of 45 knots; features a built –in toilet; Fully equipped for big game fishing.
Munson Packman – 23 feet (7m) landing Craft with 200hp 4 Stroke Outboards – maximum speed of 30 knots. This boat takes SuRi's bicycles right up to the beach where you can easily be transferred ashore for adventure .
Mastercraft X10 Wakeboarding Speedboat 2016 - 21 feet with an Ilmor MV-8 5.2Litre Engine. The newest addition to the SuRi fleet of toys boasts a seating area for up to 14 people and creates the ultimate conditions for wakeboarding and other water sports.
Avon Rover 340 Rib Gray inflatable boat – 3.4 meter inflatable working rubber boat with 20hp 4 stroke Yamaha Outboard
GemClass Gaff Rig Classic Daysailer 23ft, Designed by Herbert Krumm-Gartner, it retains the feel of a traditional Gaff-rigged yacht with some modern features in her wooden construction. Can carry up to 4 passengers.
LAND EQUIPMENT
Cannondale Hybrid Bicycles – 3 Cannondale road bikes
Beach Set-up: Beach tent for 12 guests with ample space, Weber BBQ, catering ashore
FITNESS EQUIPMENT
Keiser Performance Trainers
The Performance Trainer is compact & versatile equipment; single-column, wall mounted high-low pulley system. This equipment can be used comfortably by all body types and sizes. You can change resistance throughout the range of motion and adjust quickly in 1/10 pound increments.
TrueStretch 800SS
The TrueStretch 800 SS is a revolutionary concept that uses a natural approach to flexibility training. It will help you look better, feel better and reduce risk of injury. The TrueStretch comes with an easy-to-follow exercise manual attached right to the frame. This manual is organized by muscle groups and features 96 different stretches. All are
designed to mimic real-life, real world stretches – including performance-enhancing stretches.
Power-Plate my5 Vibration Training Machine
This vibration trainer will help you achieve new levels of health, fitness and performance – in just 15 minutes per day,three times a week. The my5's Advanced Vibration technology uses your body's natural response to vibrations to help improve muscle tone and stimulate circulation and performance. Vibrations activate natural muscle reflexes up to 35 times per second.
Life Fitness 9500HR Treadmill
Life Fitness treadmills are powerful running, walking, and jogging machines that are the top choice among exercise enthusiasts around the world. The 9500HR Treadmill features the exclusive patented FlexDeck shock absorption system. It reduces impact to the body by nearly 30% more than other treadmills.
Precor Elliptical Trainer
Stride smoothly while holding the handrails or moving your arms in natural sync; 8 Exercise programs, and 20 resistance levels; electronically controlled cross-ramp (10 to 40 degrees); 80 x 30-inch footprint, 400-Pound maximum user weight.
Nautilus SelectTech Dumbbell
This innovative dumbbell is a versatile training tool that will help you reach your fitness goal. It provides a wide array of weight options starting at 5 lbs. and going all the way up to 52.5 lbs.
Stott Pilates SPX Max plus Reformer Bundle
Equipped with our innovative retractable rope system and travelling pulleys on the vertical frame, the SPX Max Plus offers variable angles of resistance, allowing three-dimensional movement that replicates daily activities. It's a Reformer and virtual Cadillac in one, offering maximum functionality in a minimum amount of space. The Stott Pilates
SPX Max Plus is great for all levels of fitness and athletic training.
TRX Suspension Training Kit 2016
A new addition to the fitness room, the TRX suspension training straps attach to a securely bolted latch on the deck head and offer an innovative way to complete exercises and stretches. Accompanied by an informative DVD and a variety of straps for your preference and needs.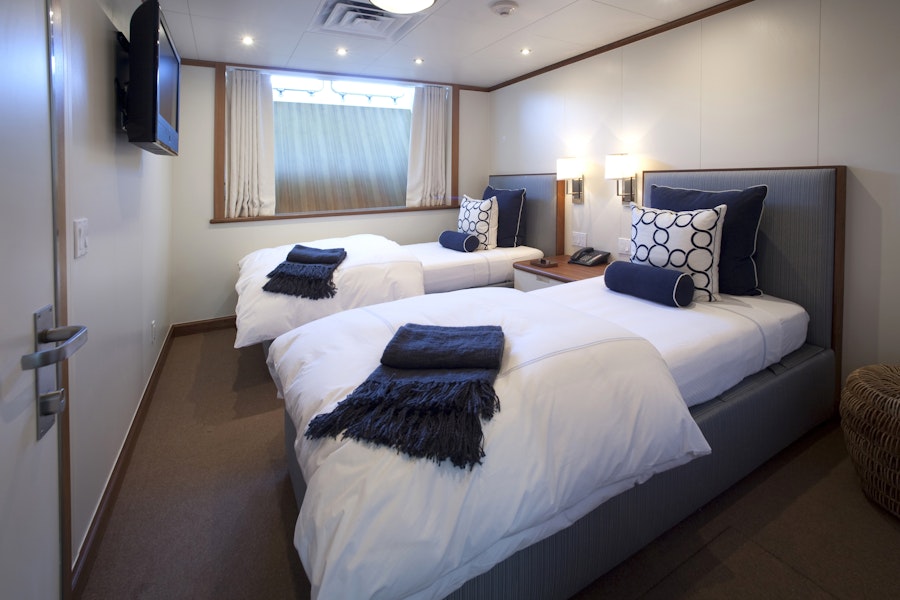 INQUIRE ABOUT YACHT FOR CHARTER
TO CHARTER THIS LUXURY YACHT, CONTACT ONE OF OUR LUXURY CHARTER BROKERS
Related Yachts for Charter
---