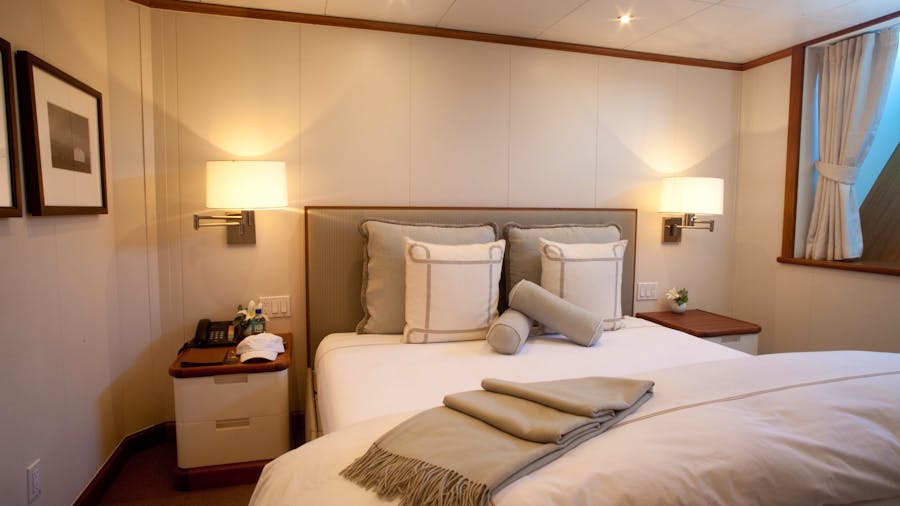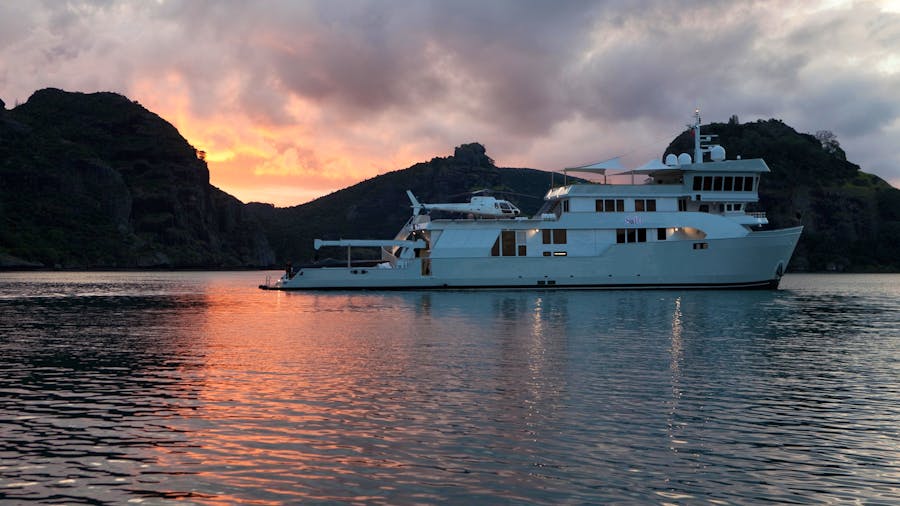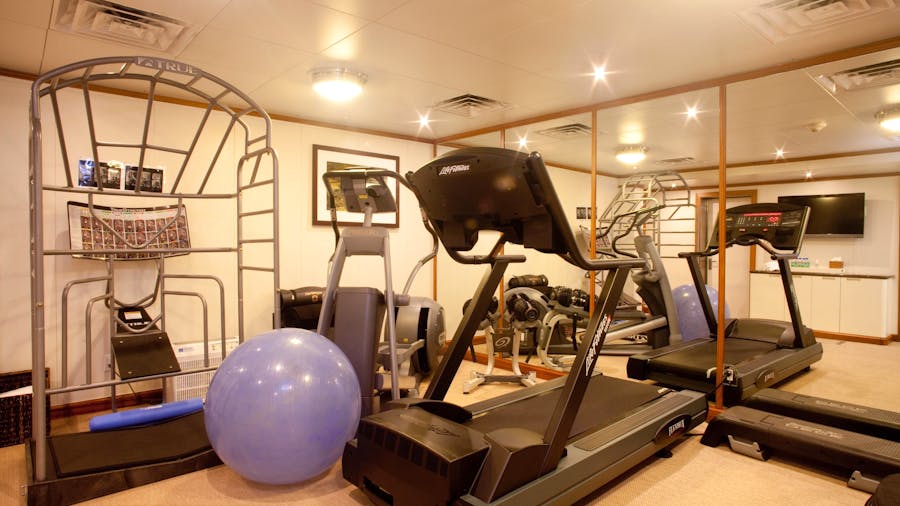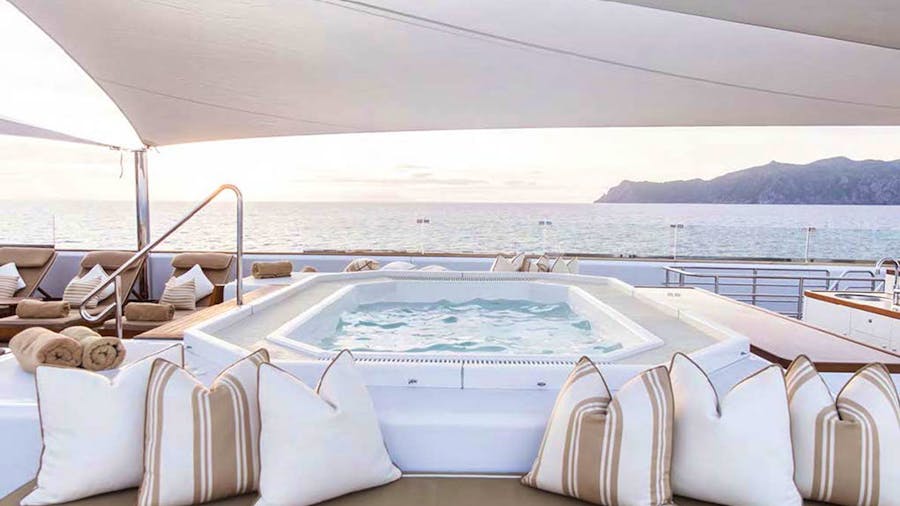 The 208-foot (63.39m) expedition yacht SuRi has set a new benchmark in the superyacht world for luxury and adventure.
Despite her build year of 1978, she was constructed by Halter Marine, SuRi is in impeccable condition. She was converted in 2007 and underwent a major refit in 2012, which included an 11-meter extension. Her design is courtesy of Kirilloff & Associates and Stan Antrim of YES.
SuRi welcomes up to 12 guests and has seven pristine staterooms. She carries 10 crewmembers who will cater to guests' every need. The staterooms are comfortable and beautifully styled, each with its own color palette and accessories. Beautiful marble en-suite bathrooms provide privacy and impressive views.
The communal interior spaces of SuRi are exquisite. One of her most unique features are glass panels inlaid into the floor of the main salon providing guests with incredible underwater views. Light fabrics and sumptuous furnishings create a modern, beachy vibe aboard. Massive windows abound, ensuring there is abundant natural light and views of the cruising grounds.
SuRi features a full gym as well as a massage room/steam bath. Her full entertainment suite is perfect for guests who wish to relax at the end of a full day spent on the water.
The yacht's main deck aft carries a variety of tenders and toys. The bridge deck aft is a large open helideck. Forward of the space is a glass panel-enclosed dining and seating lounge — ideal for enjoying meals while taking in the views in any weather. The sundeck features alfresco dining as well as sun pads for lounging and a Jacuzzi. This space can be shaded if desired.
Luxury charter yacht SuRi offers plenty to do on board, in the water and on land with a diverse range of toys and features. Excitement, adventure and luxurious comfort are all rolled into one amazing yacht.
Seasonal Rates
Winter Rates
2021/2022 Season. Rates p/week + expenses
Cruising Regions
Summer Rates
2022 Season. Rates p/week + expenses
Cruising Regions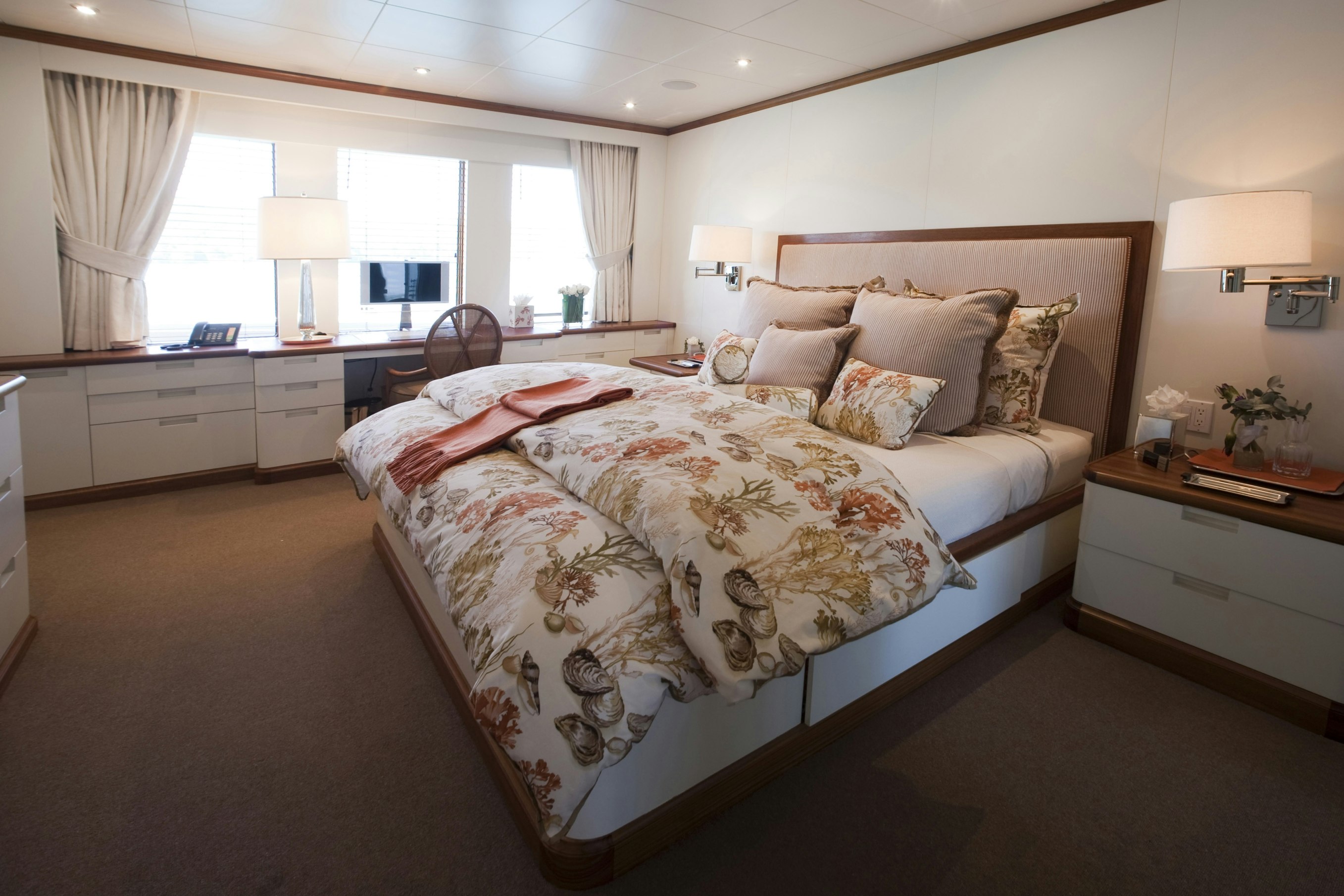 Tenders & Toys
WATER & LAND EQUIPMENT
Below is a list of water and land equipment available on SuRi. The crew have extensive experience, knowledge and qualifications to instruct or assist in the use of the equipment onboard. Please co-ordinate with a stewardess or deck crewmember to arrange activities involving any of the equipment. For your own safety and security, always inform SuRi crew if you intend to go swimming.
SPEEDBOATS & TENDERS
Intrepid Center Console – 37ft, with three 300hp V6 Yamaha 4-stroke Outboards – maximum speed of 50 knots and features a built –in toilet / shower, a live bait tank and fish holding tank; fully equipped for game fishing and scuba diving. She is the newest addition to the SuRi fleet of toys.
Mastercraft X22 Wakeboarding boat - 22ft, with an Ilmor MV-8 6.2L engine. Boat's seating for up to 16 people, along with a top of the line fusion sound system, creating the ultimate conditions for wakeboarding and other water sports.
Stan-Craft Wooden Classic Speedster Open Boat (Woodacres) – 30ft in length, with an 8.1L Mercruiser Inboard Engine – 1997 deluxe vintage boat that has been fully refurbished with Mahogany wood and comfortable seating. It can carry up to 6 passengers and has a maximum speed of 40 knots.
Munson Packman – 23ft landing Craft with 200hp 4-stroke Outboards – maximum speed of 30 knots. This boat is the work horse of the SuRi fleet and makes shore landings and beach BBQ's a breeze.
DSB inflatable Rescue Boat - 16ft, with a 25hp Evinrude 4-stroke outboard engine.
Sealegs Amphibious Inflatable Rib - 25ft, 3-wheel drive on land powered by Honda generator and a 200 hp Yamaha outboard engine for in the water.
Gemclass Gaff-igg - classic day sailor, designed by Herbert Kramm – Gartner. The sailboat can carry up to 4 passengers.
4 x Yamaha High Performance 1.8 Jet Ski's - 2 in Black and Blue & 2 in Black and Red
2 x Yamaha Super jet Race Performance Stand Up Jet Ski's - 1 in Black & 1 in White
WATER SPORT EQUIPMENT
• 2 x Seabob F5S underwater scooters
• 1 x Zapata fly board with a variety of boots to fit all sizes
• 1 x Zapata hover board with variety of boot sizes
• Adult Connelly water skis
• Child Connelly water skis
• 4 x paddle boards
• 6 x surfboards ranging from 5' to 8'
• 4x Foam long boards 8"
• 1x Foam long board 8.2"
• Variety of kneeboards, wakeboards and wake surf boards
• 2 x Jet Ski tow sled's
• Assorted towable inflatable toys
• Yellow banana boat for 4 people
• 2 x single kayaks
• 2 x double kayaks
• 1 x Hobie Cat for 4 persons
• 1 x Heritage single rowing boat
• 1 x Heritage double rowing boat
• 1x Single person rowing skull
• Fishing gear for trawling / jigging
• Variety of big game fishing gear
• Freestyle cruiser inflatable water slide 11m
• Inflatable rock-climbing wall
• Inflatable swimming pool
• Inflatable stern platform for water sports equipment
• Inflatable platform for single Jet Ski
DIVE EQUIPMENT
• NUVAR compressor which fills 2 bottles in 15 minutes
• 1 x Nitrox compressor
• 18 x Aluminum tanks (80's)
• 15 x Full BCD kits with regulators
• 15 x Dive masks
• Full line of short and long 3 mil wet suits
• Full complement of snorkeling Gear
KITEBOARDING EQUIPMENT
• Assorted seat & waist harnesses
• 7,9,11,15m core kites
• 2 x twin tip boards
• 1 x adjustable foil board (50,70,90cm mast)
LAND EQUIPMENT
Cannondale Hybrid Bicycles – 3 Cannondale road bikes.
Beach Set-up: BBQ setup including seating for up to 12, Sun shades, Weber BBQ, Beach Volley Balls, and assorted beach games catering ashore.
HELIPAD / HELICOPTER
Commercial and available during charter operations.
Inquire About Yacht for Charter
To charter this luxury yacht, contact one of our luxury charter brokers
Related Yachts for Charter
---