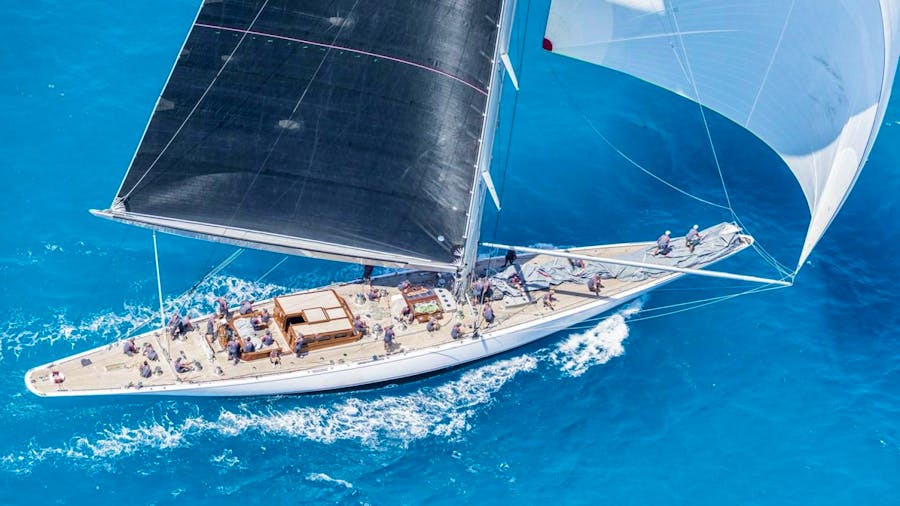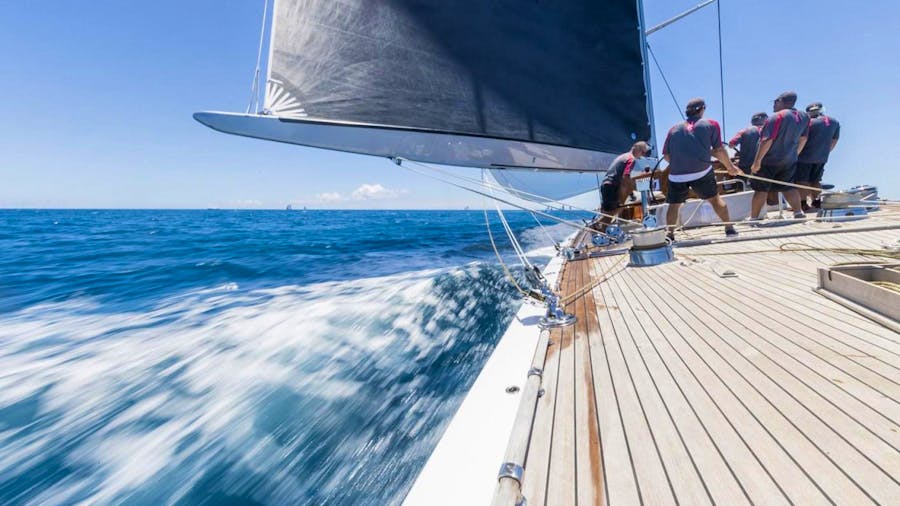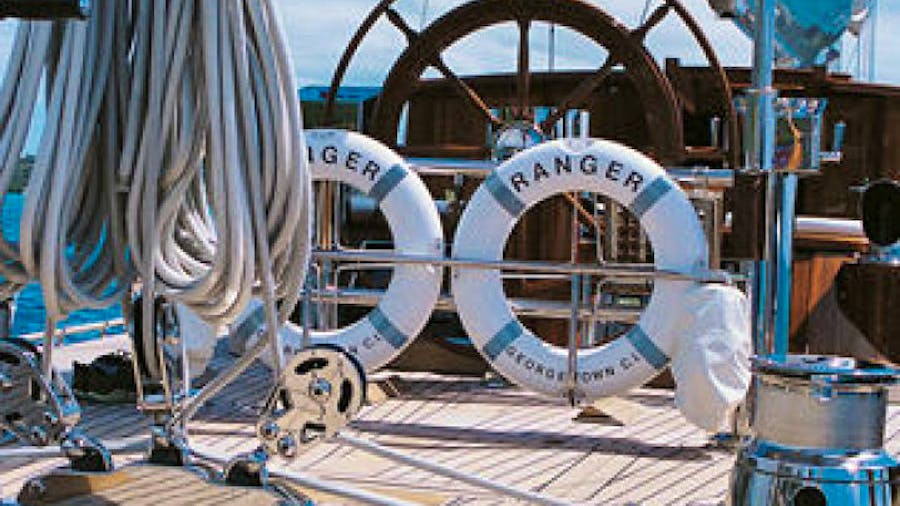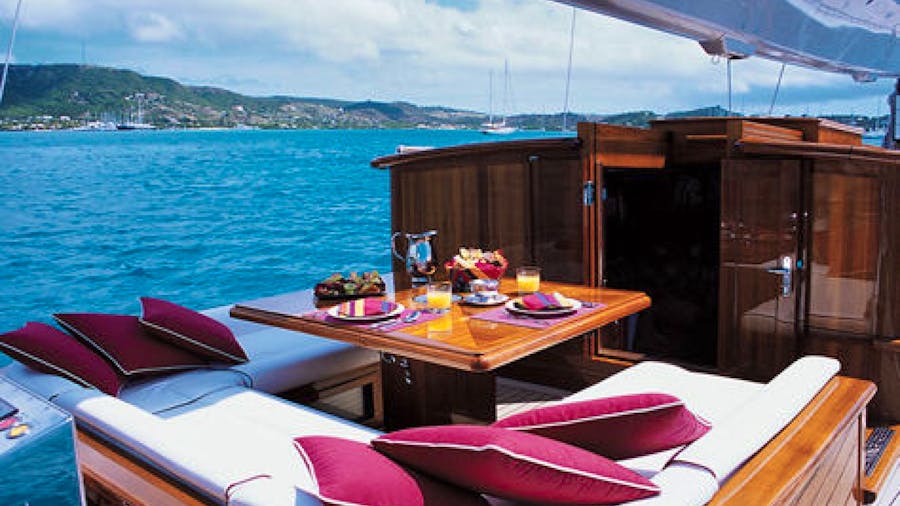 The impressive, luxury sailing yacht RANGER was the first modern J-Class sailing yacht produced, built in 2003. In true J-Class style, not only is RANGER gorgeous, she is a thrill to sail with exceptional superyacht sailing performance. RANGER is an updated and competitive superyacht, racing in both J-class and generic races.
RANGER has won a variety of awards throughout her life, including "Highest Technical Achievement in a Sailing Yacht" at the 2004 ShowBoats Design Awards. She also has won a number of races, including the Overall Winner of the St. Barths Bucket Regatta 2010, Overall Winner of the JCA (J Class Association) Regatta 2011 and First Place Winner of the IRC A Division at Les Voiles de St. Tropez Regatta, 2015. This "spirit of tradition" sailing yacht for sale is classed to Lloyds and is MCA compliant. She is set for both personal cruising and is also eligible to charter.
RANGER's design followed the basic lines of the original J-Class RANGER of 1937. The original was built of steel and so too is the 2003 version. The new "Super-J" RANGER has been upgraded and updated throughout her life. She underwent a 2008 refit and another refit that spanned 2013 into 2014. In one refit, her weight was reduced by taking weight out of her hull and redistributing some of it. Further significant weight reduction was accomplished when her rod rigging was upgraded to the modern composite EC6 and her new carbon boom, 50 percent lighter than the older one, was installed.  In the latest refit this luxury sailing yacht had her engine and generators rebuilt, teak decks completely refurbished and her five-year rig removal and inspection completed. In April 2014, sailing superyacht RANGER passed her Lloyds' 10-year classification with flying colors.
RANGER is a sleek, classic yacht with exquisite, large overhangs. She has a flush deck with cockpit and a comfortable, composite "dog house." a slight departure from the original Ranger.  Her main deck can be covered with an awning. The cockpit allows seating for eight. The interior of RANGER is true to the vintage style of the 1930s in New England, traditional with classic mahogany and raised paneling.  The salon is spacious, offering elegant dining on one side and a lounge area on the other. The interior is "floated" so it does not touch the hull, thus noise and vibration are greatly reduced, resulting in a quiet, peaceful atmosphere.
Luxury sailing superyacht RANGER has four lavish staterooms to accommodate up to 10 guests. Her full-beam master features a centerline queen bed, a settee and an en-suite bathroom with impressive tiling. Three additional, equally beautiful, staterooms offer comfortable accommodations; two offer Pullman berths for an additional guest.
RANGER is a beautiful sailing yacht capable of racing or cruising anywhere in the world. She is well suited for family life on board, but also would bode well as a luxury charter yacht. Sailing superyacht RANGER has all the qualities of a luxury yacht and the performance of a proven racer. She is one-of-a-kind and truly must be experienced to appreciate her beauty and sailing prowess.
Features
Beautiful J Class lines
Exquisite classic mahogany interior by Glade Johnson
Extremely quiet and peaceful inside due to "floating" interior
Owner/guest area aft has four staterooms, three with en-suite heads; one as day head
Competitive racing yacht, continuing her winning record
Comfortable, safe, cruising yacht
Latest technology with EC6 composite standing rigging
Classed to Lloyds and MCA compliant
Details
| | |
| --- | --- |
| Length | 137 FT (41 M) |
| Beam | 21 FT (6.4 M) |
| Draft | 15 FT (4.57 M) |
| Builder | Danish Yachts |
| Designer | Starling Burgess 1937 |
| Year Built | 2003 |
| Construction | Steel |
| Cruising Speed | 8Knots |
| | |
| --- | --- |
| LOA | 137 FT (41 M) |
| Beam | 21 FT (6.4 M) |
| Max Draft | 15 FT (4.57 M) |
| | |
| --- | --- |
| Cruising Speed | 8 Knots |
| Max Speed | 10 Knots |
| | |
| --- | --- |
| Hull Material | Steel |
| Designer | Starling Burgess 1937 |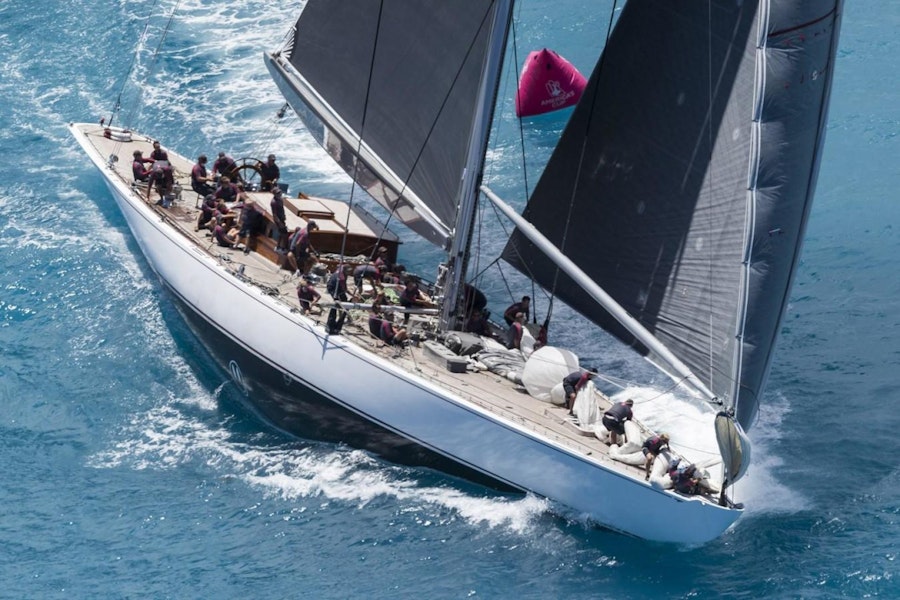 Full Specifications
---
LWL: 95
Beam: 21
Displacement: 200 tons
RANGER, is a replica of the "J-Class" yacht which defended the Americas Cup in 1937. This sophisticated yacht was a labor of love by the current owner. While chartering Endeavour for a classic regatta, it came to him to build a replica of the "super-J" RANGER. A stellar team contributed to the successful build of 136' Ranger, finally launched by Danish Yachts in 2003. Naval architects Studio Scanu, Reichel-Pugh, and Fred Elliott worked with the original lines of Starling Burgess and Sparkman and Stephens to create a sailing superyacht that not only wins honors in regattas, but cruises in style as a proper luxury yacht. A departure from the original, she carries a central cockpit and doghouse as well as a splendid classic mahogany interior boasting 4 staterooms aft for owner and guests with 3 ensuite baths - all created by Glade Johnson Design. In addition, the classic interior is extremely quiet, as acoustical engineer Joe Smullin was in charge of isolating it from the hull, greatly reducing vibration and noise. Whereas the hull is steel, true to the original, the new teak doghouse is carbon fiber underneath and the classic raised panel interior is actually Nida-cored to keep weight down. Countless hours were spent on fitting modern technologies and living concepts into the matrix of a vintage sailing yacht that conformed to the J-Class Association's rules and regulations. She is the epitome of a "spirit of tradition" yacht.
On deck the quality of the craftsmanship of RANGER is evident from the moment you step aboard at the transom and see straight teak planks with no joins all the way up to the traveler.
Sailing yacht RANGER has accommodations for eight in the aft guest quarters (ten if the Pullman berths are used) in four cabins including a lavishly appointed full-width master with tiled bath plus eight crew in three cabins, one cabin port and one starboard that sleeps two, with two full baths, and one cabin forward that sleeps four. A cozy cockpit for up to eight with a teak table is just behind the teak clad carbon fiber deck house featuring glove leather seating either side of the companionway leading below accented by a beautiful teak hand rail culminating at a teak and holly sole.
Superyacht RANGER's salon features a formal dining table to starboard and leather seating to port. Forward through a water-tight bulkhead, is the galley to port and the crew dinette to starboard.
The engine room and machinery spaces are accessed via the galley sole or a water-tight door under the companionway aft under the cockpit.
Forward of sailing yacht RANGER's forward engine room water-tight bulkhead, is a massive custom built-in freezer and refrigerator. This area also accommodates galley dry storage and air conditioning. Aft, via a water-tight door in the forward engine room bulkhead, is the engine room with electrical panels forward, starboard and port generators in sound shields and the main engine on the centerline. This area has been ingeniously designed and provides 360° access to all machinery and systems with great headroom for a J boat.
Interior Finish Note:
It should be noted that superyacht RANGER's interior is fully isolated from the hull and no vibration or working of this interior exist under power or with extreme load on deck from winches even when there is 26 tons on the back stays and green water flowing over both her weather and leeward rails.

The underlying material for sailing yacht RANGER's interior is Nida-core to keep the interior light. Over this very state-of-the-art foundation, is the finest of old world craftsmanship featuring flawless gloss finish over raised mahogany panels with crotch-cut flamed mahogany centers making for a very high quality, impressive interior, all the more impressive due to the incredible detail of Glade Johnson's design which can only be appreciated by a personal inspection. The traditional 1930s interior was built in Sardinia and shipped to Skagen, Denmark for installation.
(1) Bosch Range
(1) Bosch Oven
(1) Bosch Grill
(1) Panasonic NE-1757 R Microwave
(1) Custom Refrigerator in Galley and Tank Deck
(1) Custom Freezer in Galley and Tank Deck
(1) Hoshizaki Icemaker
(1) Miele T1415 Washer
(1) Miele W1215 Dryer
(1) Furuno FR-2115 BB Radar; Range: 72 miles
(1) Liffon CPlath 0735-02 Gyrocompass
(1) B&G 2000 Depth Sounders
(2) Leica MX 420/8 Inc AIS GPS
(1) Transas Chart Plotter
(1) Furuno NX 500 Navtec
(1) B&G Hercules 2000 Wind and Speed Indicator
(1) Furuno Felcom 18 Inmarsat C (new 2017)
(1) Fleet Broadband 250 (2017)
(1) Panasonic KX-TD816 Telephone System
(1) Pepwave integrated cellular data system
(1) Standard RS-8400 X2DSC with DSC control unit VHF Fixed
(4) ICOM VHF Handheld
(1) ACER X4 Ship Computer
(1) HP 5530 Printer
(1) Ship's Server Unit
Apple TV system with iPad control and a movie server playing on televisions in the master stateroom and main salon. Crew area has a stand alone TV and DVD player.
(2) Northern Lights MP445D Generators; 40 kw, 1800 rpm each; 208 volts, 3 phase, 60 Hz
Port Generator: 6935 hrs since rebuild in 2013/2014 (Dec 2017);
Stbd Generator: 5153 hrs since rebuild in 2013/2014 (Dec 2017);
Electricity: 120/240 Volt AC; 12/24 Volt DC
Shore power: 190 - 440 volts; 3 phase; 50/60 Hz VIA
Batteries:
Main engine starting: 1,200 A/H charged by: charger & main engine
Generator starting: 200 A/H charged by: charger & gensets
General service: 1,200 A/H charged by: 2 x 100 Amp
Emergency: 200 A/H charged by: charger 25 Amp
(1) Lewmar Hydraulic Anchor Windlass System (Self-stowing hidden anchor system that
deploys underwater through the hull in the sail locker)
(1) PHHP 125 kg Galvanized Anchors; w/fortress anchor as backup
(1) U2 Anchor Chain & Rode; 230m x 16 mm
Spinnaker Halyard & Hydraulic Winch main tender davits
(1) Carbon Fiber manual stern boarding gangway
High Modulus carbon fiber rig (Southern Spars, NZ)
High Modulus carbon fiber boom (New lighter boom spring of 2009 by Southern Spars)
Carbon EC6 standing rigging and new carbon spreaders to accommodate the new rigging, all by Southern Spars N.Z. All standing rigging returned to US for survey and testing in 2013/14 work period.
(2) Carbon spinnaker poles
(16) Lewmar Hydraulic Drum Winches.
1 Manual Lewmar Winch on the mast.
Primary winches have been completely overhauled and upgraded by Lewmar to handle the loads.
Runner winches upgraded in 2014 to increase recovery speed in first gear.
Sails by North
Mainsail is fully battened with a delivery main sheeted to the deck
Cruising Yankee
Staysail
Code 0
Trisail storm sail
Storm Jib
Racing Sails
Race Main 3Di (2012)
G1F 3Di (2015)
G1 E
G2 3Di
G3A
G4
Gennaker Staysail (2015)
Staysail
S1
S2B
A1
A2
A4
A5B
Ranger's full inventory of race sails is continually being updated.
Mini ISM
Fire Safety
(15) Fire/Heat/Smoke Detectors (located throughout vessel)
(1) Fixed Fire Fighting System
(5) CO2 Portable (Forepeak, Engine room, Pump room)
(12) Fire Extinguishers (located throughout vessel)
(2) Seawater Fire Fighting Stations (Forepeak, Cockpit)
Security
(1) Ship safe (Master cabin)
Overboard Safety
(3) Viking 8 person life raft
(4) Life Ring
(1) ACR Globe EPIRBS
(20) Pains Wessex Flares
(2) Lifeguard 8 man life rafts for racing
Misc
(1) MSOS MCA Offshore First-Aid Kit
Hull/Deck Material: Steel
Superstructure Material: Carbon fiber deckhouse
Deck Material: Teak with varnished teak trim
Ballast: 80 Tons
Lloyd's + 100A1 SSC Yacht Mono, G6; LMC, under 50m and under 500 GRT; MCA - up to 60 nm offshore
Engines: (1) Lugger Diesel, 6125A, 425hp
Engine hours: 972 hrs since rebuild Oct 2015 (Dec 2017).
Gearbox: Mekanord; ratio: 3.81:1
Propeller: Hundested VP-7 Controllable Pitch
Bow thruster: Lewmar retractable; 50 hp
Steering: Manual chain, cable, quadrant
Backup Steering: Manual
Other machinery
Air conditioning: Aqua Air; 10 tons 120,000 BTU with 13 Air Handling Units; fresh air make-up thru A/C unit; 35 cubic m/hr. person
Watermakers: (1) Matrix @1500 Silver Series; 6,000 Liters per day
Fuel Filtration: (1) Racor Triple Unit
Bilge Water Filtration: Waterboy
Sewage System: Hamann Mini Norwegian
Fresh Water System: (1) Ampco Stainless Steel AC Pump, (1) Groco DC pump
Tankage
Fuel capacity: 1585 Gallons/6000 Liters
Water capacity: 1800 Gallons/6800 Liters
Gray/Black water: Forward tank - 370 Gallons/1400 Liters; Aft tank - 190 Gallons/705 Liters
(1) Novurania 430 TR with 40 Hp Yamaha outboard
(1) Water ski
(2) Mares diving gear
(12) Snorkeling gear
2016
Work was completed to comply with Lloyds and Cayman Intermediate and Annual Surveys. This included:
- The Appraisal Survey and issue of the Docking Certificate which attests to Ranger's sound hull.
- Tank inspection and service
- Checks and compliance for items: watertight doors, bilge system, alarms, to communications, steering and anchoring systems.
Main engine serviced
Generators serviced
Air-conditioning system serviced
Refrigerators and freezers serviced
Two new hot water tanks
Antifouling applied
All systems below waterline serviced
Other works were geared primarily to making Ranger faster on the course:
- A rig optimization increased sail area and speed. Rig was taken out and put back in the boat.
- Various deck hardware was changed out to a lighter version.
- New spinnaker pole
- New sails (main, genoa)
- Fine fairing of the underbody
APRIL 2014
Completed Lloyd's 10 year classification and Cayman Islands surveys.
DECEMBER 2013 – WINTER 2013/14 PALMA MALLORCA
Inspection and rebuild of the generators and main engine.
Removal and inspection of the propeller shaft and rudder stock.
Hull thickness measurements at various points on the hull and in the tanks and numerous other smaller locations.
Mast taken out and carbon rigging shipped back to Newport, RI for inspection.
Ultrasound of mast tube and non-destructive testing of the stainless elements of the mast completed.
Teak deck completely refurbished; all caulking was removed and seams routed out to the deck. Deck was dried and dehumidified prior to epoxy being worked in the voids in between the teak and deck. Seams were then recaulked.
All other safety and operationally necessary items were addressed as they arose.
2012
Hull Painted. Primary winches upgraded to pull 10 tons
FALL/WINTER 2008/2009:
Completed 5 year Lloyds survey: This included the replacement of the prop shaft and the full break down and re-build of the engine and generators.
Mast and Rigging: The 5 year rig survey by Southern Spars and replacement of the stainless steel rod rigging with new EC6 composite rigging from Southern Spars. New spreaders to accommodate the carbon rigging. New main boom (lighter version of existing boom).
Paint work: Full repaint of the hull and mast. All varnish work renewed.
Racing history is available upon request.
A complete list of exclusions shall be available upon request.
The original design brief of sailing yacht RANGER called for a yacht that could be used as a family cruising yacht, a racing yacht, a corporate tool and a charter yacht.
Ranger was the first modern J Class yacht to be built from the drawings of an original J Class yacht.
At the time, J Class rules mandated the boat be the same material as the original—in Ranger's case steel. To be able to charter readily, RANGER was also built and classed to Lloyds and MCA compliance.
Over the last 10 years J Class rules have evolved. To this end, super racing yacht RANGER has kept pace by having refits in the weight of the hull, the rigging, and winches. The boat is lighter and weight redistributed, rigging is composite EC6, there is a lighter carbon boom, and electric winches have replaced the coffee grinders.
Super yacht RANGER's upgrades and rating keep her in the winner's circle for J Class as well as other racing events. In the 2015 Les Voiles de St. Tropez, RANGER won the Kappa Trophy for first place in the IRC A division.
For cruising, corporate guests, charter guests and the owner's family all enjoy RANGER's lovely, voluminous classic interior and stunning super yacht sailing performance.
While RANGER's beauty and refinement evoke the era of the 30s, the conveniences and technology aboard can only be attributed to our modern age. Built to Lloyds and MCA compliant, RANGER is the epitome of having the best of both worlds, a beautiful, high performance racing yacht and beautiful cruising yacht with all the amenities of a modern luxury yacht. The purchase of RANGER is an opportunity to become a member of the elite J-Class Association, 9 yachts strong. Whether for racing or cruising, super yacht RANGER is ready to set sail.
The Company offers the details of this vessel in good faith but cannot guarantee or warrant the accuracy of this information nor warrant the condition of the vessel. A buyer should instruct his agents, or his surveyors, to investigate such details as the buyer desires validated. This vessel is offered subject to prior sale, price change, or withdrawal without notice.