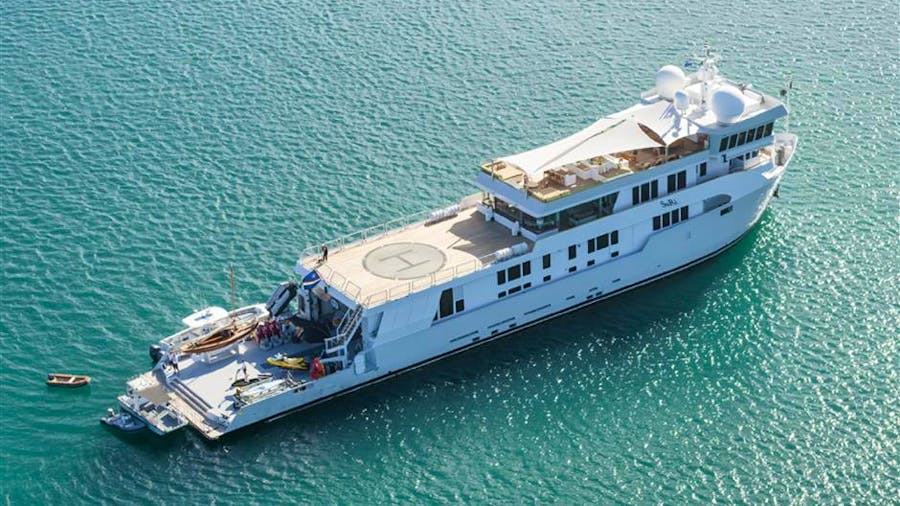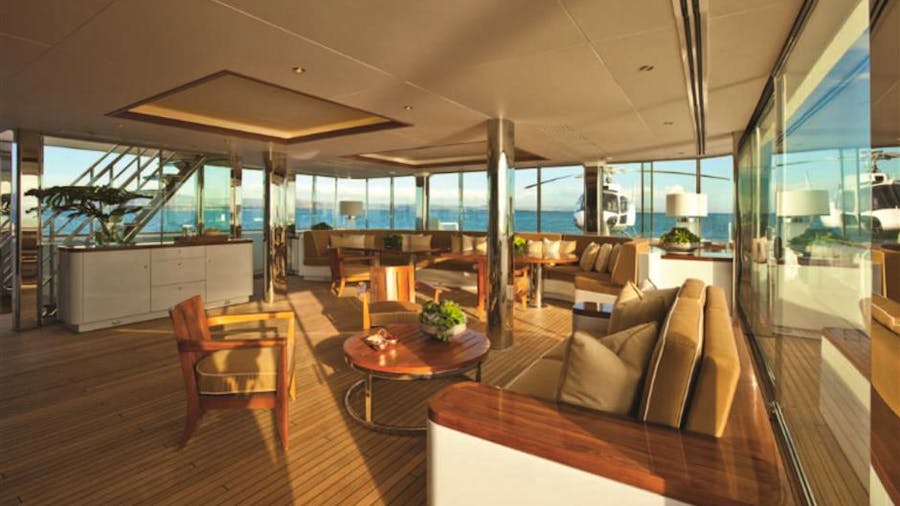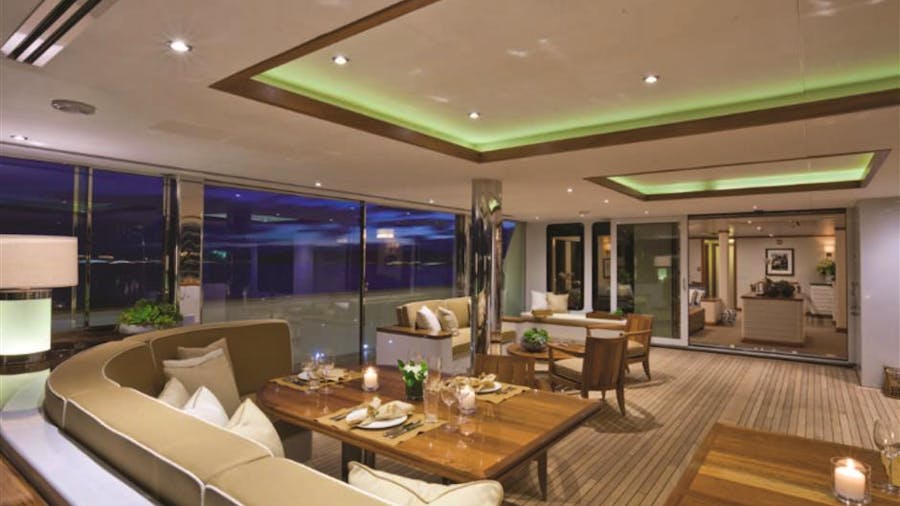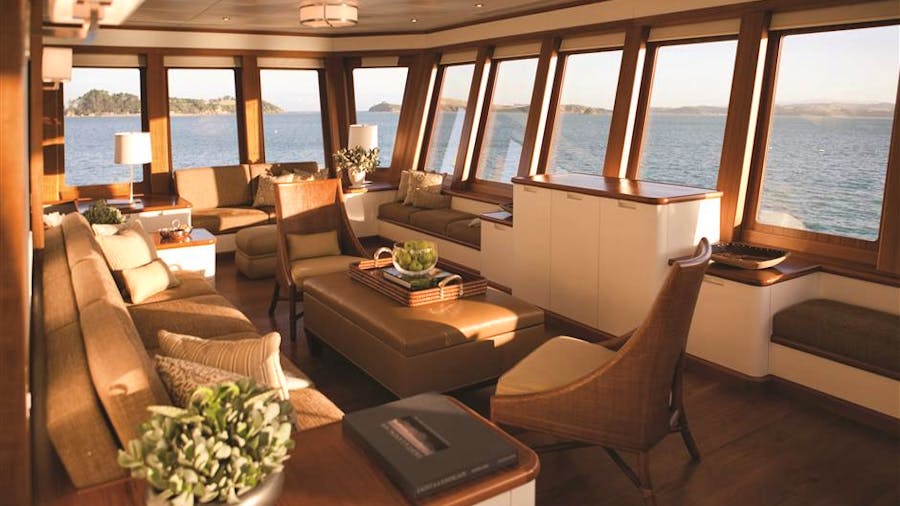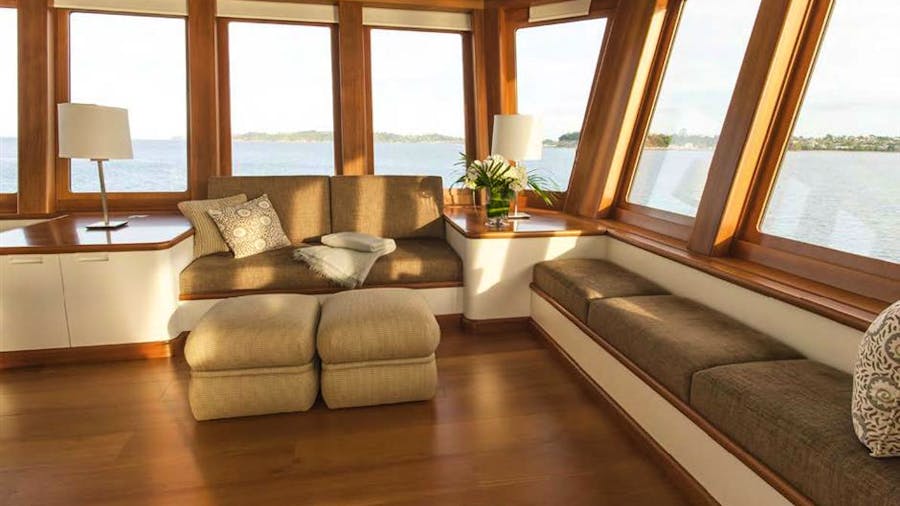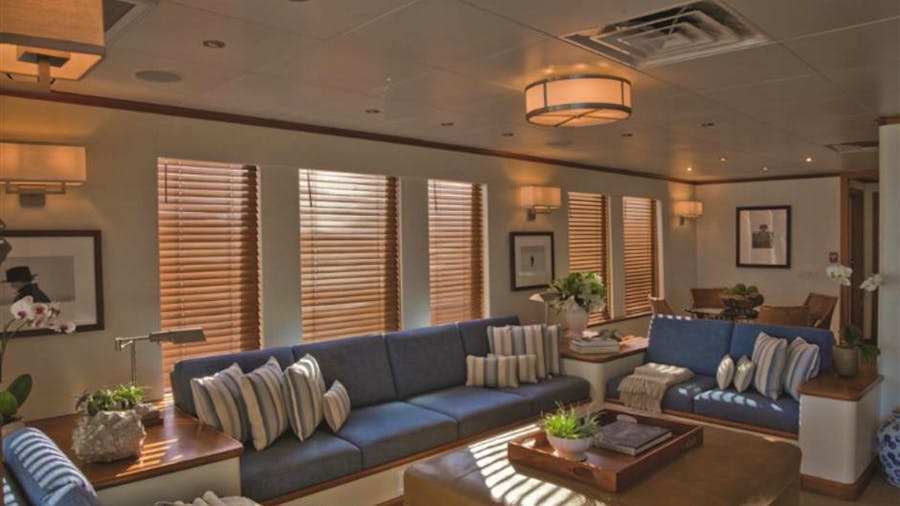 | | |
| --- | --- |
| Length | 208 FT (63.4 M) |
| Beam | 38 FT (11 M) |
| Draft | 11 FT (3 M) |
| Gross Tonnage | 1355 Ton |
| Guests | 15 |
| Crew | 19 |
| Builder | HALTER |
| Designer | Halter Marine/Yacht Escort Ships, Intl. |
| Year Built | 1978 |
| Construction | Steel |
| Cruising Speed | 11Knots |
| | |
| --- | --- |
| LOA | 208 FT (63.4 M) |
| Beam | 38 FT (11 M) |
| Max Draft | 11 FT (3 M) |
| | |
| --- | --- |
| Cruising Speed | 11 Knots |
| Max Speed | 13 Knots |
| Gross Tonnage | 1355 Ton |
| Fuel Capacity | 227,124 Liters |
| | |
| --- | --- |
| Hull Material | Steel |
| Designer | Halter Marine/Yacht Escort Ships, Intl. |
Full Specifications
---

Steel hull and superstructure, teak decks
| | | |
| --- | --- | --- |
| | | |
| General | | |
| Length Overall: | 208.00 feet | (63.39 meters) |
| Beam (molded): | 38.00 feet | (11.58 meters) |
| Draft: | 11.00 feet | |
| Tonnage: | 1,355 gross | |
| | | |
| Capacities | | |
| Fuel Capacity: | 60,000 US Gallons | (220,816 liters) |
| Water Capacity: | 7,516 US Gallons | ( 28,451 liters) |
| Watermakers: | (1) HEM 30/4000 0.63m3/h, | |
| | (2) Village Marine pur water 200-2000 GPD 0,31m3/h each | |
| Lube Oil: | 1,706 US Gallons | (6,458 liters) |
| Waste Oil: | 1,903 US Gallons | ( 502 liters) |
| | | |
| Speed | | |
| Maximum: | 13.0 knots | |
| Cruising: | 11.0 knots | |
| | | |
| --- | --- | --- |
| | | |
| Main Engines | | |
| Engine Type: | (2) Caterpillar CAT 3508c diesels @1200 hp 1600 rmp each | |
| Gearboxes for Main Engines: | Twin Disc Model MG540 | |
| Drive Ratio: | 5.17: 1 | |
| | | |
| Generators & Electricity | | |
| Output: | 145 kW at 1800 rpm each | |
| Generators: | (2) 99 kW John Deere | |
| | (1) 65 kW John Deere emergency | |
| Generator Fuel Consumption: | (2) 145 kW Caterpillar C6.6 ACERT, 1800 rpm each | |
| Shore Power: | ATLAS Shor-Power HV Ultra unit | |
| | | |
| Air Conditioning | | |
| Aft Section: | (2) Bitzer 4C1385SH-4SU 103.8 kBtu/h each | |
| Fwd Section: | (6) Bitzer 4CES-9-4SU 133.8 kBtu/h each | |
| | | |
| Other Machinery | | |
| Watermakers: | (1) HEM | |
| | (2) Village Marine | |
| Bow Thruster: | Detroit Diesel 8V71, 174kW at 1800 rpm | |
| Steering System: | Hydraulic 2x10HP electromotors | |
| Fuel Separator & Filtration: | Alfa Laval MAB 103B-24 | |
| Sewage System: | (1) Headhunter TW-HMX-512LP ,1200Gal/day | |
| | (1) Headhunter TW-HMX-514, 2000Gal/ day | |
| Fresh Water System: | UV sterilizer MP49C 20GPM, AG sterilizer | |
| | Chlorine dosing, HEM water softener K60 | |
| Bilge Water Filtration: | Recovered Energy BOSS model 2.2T/107 | |
| | |
| --- | --- |
| | |
| Communication Systems | |
| SATcom: | INMARSAT Voice: Nera/ MMSI Model 66EB01-3 |
| Telephone System: | VSAT, Iridium, Fleet 77 |
| VHF: | (2) Furuno/ Navnet Range 72NM |
| Cellular Phone System: | Panasonic KX DT-333 |
| Intercom: | Panasonic PA System |
| | |
| Navigation Systems | |
| Radar: | (2) Furuno Navnet Range 72 NM |
| Gyrocompass: | Sperry Marine |
| Magnetic Compass: | Lilley & Gillie |
| Auto Pilot: | SIMRAD AP-50 |
| Depth Sounder: | Furuno FCV-1.00 L |
| GPS: | Furuno GPS/WAAS |
| Weather FAX: | Furuno FAX-408 |
| Ships Computer: | Windows 7-Windows 10/ VAR Tech System |
| Wind/Speed Log: | Furuno |
| Navtex: | Furuno Navtex NX-300 |
| | |
| Entertainment System: | |
| Video Equipment | |
| TV's: Samsung (different sizes) | (19) TVs with 17 Kaleidescape players & Server DLA RS400E D-ILA LCD Projector with screen Apple TV Service |
| Audio Equipment | |
| Stereo's: | Interga Amplifire Dolby Sound system |
| | |
| --- | --- |
| | |
| Main Galley Equipment | |
| Cooking Equipment: | (1) Miele schott ceran Induction Panel |
| | (2) Miele Ovens |
| Refrigeration/Freezer: | (1) ASTRA / Freeze Tech walk-in |
| | (3) Trautsen Commercial refrigerators |
| | (1) Walking Deep-Freezer |
| | (1) True double |
| | (1) Miele Dishwasher |
| | |
| Crew Galley/Mess Equipment | |
| Cooking Equipment: | (1) Thermador Induction Panel |
| | (1) Panasonic Microwave Oven |
| Refrigeration/Freezer: | Perlick small refrigerator |
| Other: | Krupp's coffee machine, water dispenser |
| | NutraBullet |
| | Toaster |
| | |
| Additional Galley Equipment | |
| Other cooking/ Production Equipment: | Sous Vide |
| | Thermomixer |
| | Ice Cream Maker |
| | Commercial Toaster |
| | Blender |
| | Juicer |
| | |
| Laundry Equipment | |
| Main Laundry Equipment | (4) Miele Professional PW-6065 washing machine |
| | (4) Miele Professional PT 7106 plus Dryer |
| | (4) Laurastar Steam Iron with Board |
| | (1) Aowenta steam Mobile Iron |
Tenders
Stan-Craft Wooden Speedster (Open Boat) with 600hp Inboard Engines – 1997 deluxe vintage boat that has been fully refurbished with Mahogany wood and comfortable seats; 30 feet in length and can carry 6 passengers; with a maximum speed of 40 knots.
Intrepid Center Console 37 feet (11.3m) with (2) 350hp V8 Yamaha 4-stroke Outboards – maximum speed of 45 knots, toilet, fully equipped for big game fishing.
Munson Packman – 23 feet (7m) landing Craft with 200hp 4 Stroke -Outboards – maximum speed of 30 the beach where you can easily be transferred ashore for adventure.
Mastercraft X10 Wakeboarding Speedboat 2016 – 21 feet with an Ilmor MV-8 5.2Litre Engine. The newest addition to the SuRi fleet of toys boasts a seating area for up to 14 people and creates the ultimate conditions for wakeboarding and other water sports.
Amphibious Sealegs RIB capable of cruising on water and land – 7.7m – Yamaha 200hp outboard engine.
GemClass Gaff Rig Classic Daysailer 23ft, Designed by Herbert Krumm-Gartner, it retains the feel of a traditional Gaff-rigged yacht with some modern features in her wooden construction. Can carry up to 4 passengers.
11ft /3.35m Nautica 15 DL inflatable boat RIB Yamaha 40 HP Outboard engine
11.15ft /3.4m Avon Rover 340 RIB Yamaha 15 HP Outboard engine inflatable working rubber boat.
Watersport Equipment
(2) XL Gibbs 2 Seater Quadski's in Black and White
(1) Zapata fly board with a variety of boots to fit all sizes
(1) Zapata hover board with variety of boot sizes
(2) Yamaha FX High Performance 1.8 Jet Ski's in Black and Blue
(2) Seadoo RXT 260s Jetski yellow and black
(1) Yamaha Superjet Race Performance Stand Up
Jet Ski in Black and Blue
Adult Connelly Water Skis
Child Connelly Water Skis
(4) Paddle Boards
(6) surfboards ranging from 5' to 8'
Variety of kneeboards, wakeboards and surfboards
SeaDoo Towable inflatable for 3 person
Super Mable inflatable for 3 person
O'Brian inflatable for 2 person
Yellow banana boat 4 person
(2) Single Kayaks
(2) Double Kayaks
(1) Hobie Cat for 4 persons
(1) Heritage Single Rowing Boat
(1) Heritage Double Rowing Boat
Fishing Gear for Trawling / Jigging
Variety of big game fishing gear
Freestyle cruiser inflatable water slide 11m
Inflatable rock climbing wall
Inflatable swimming pool
Inflatable stern platform for water sports equipment & seaplane.
Hydrofoil Ski
Kite Boarding Equipment
(2) Seabob underwater scooters
Aviation Equipment
Helicopter: A-Star A350 Squirrel Helicopter seats pilot & 4 passengers (NOT INCLUDED)
SEARAY seaplane – 2 person seaplane amphibious aircraft
Land Equipment
(3) Cannondale Hybrid Bicycles
Beach Set-up: Beach tent for 12 guests with ample space, Weber BBQ, catering ashore.
Dive Equipment
NUVAR compressor ,which fills 2 bottles/ 15 min
(1) Nitrox compressor
(18) Tanks (80's) Aluminum
(15) Full BCD kits with Regulators
(15) Dive Masks
(34) (various size)x ocean pro 3 mm wet suits short
(43) (various size)x ocean pro 3/5 mm wet suits long.
Full complement of snorkeling Gear 12 sets
| | |
| --- | --- |
| Anchor Windlass System: | Hydraulic System |
| Anchors: | (2) Kedge Anchors |
| Anchor Chain: | (2) port side 27m (6) shackle |
| Boat Crane and Davits: | Fassi Max strength 16 ton |
| Passerelle: | (1) |
| Swimming Platform: | yes |
| | |
| --- | --- |
| | |
| Security Equipment | |
| Cameras: | 180 degree Port & Starboard side |
| | (1) Aft deck |
| | (1) Hanger |
| Monitors: | Flir System |
| | |
| Fire Fighting Equipment | |
| Fire Control System | Fixed CO2 system |
| Fire Extinguishers: | (64 Dry powder, wet chemical, Foam) |
| Alarms: | (9) Heat Detector |
| | (36) Smoke Detectors |
| Alarm Panels: | Ansul Auto plus IQ-301 |
| | |
| Safety Equipment | |
| Life Rafts: | (4) Viking life rafts – 25 person each |
| | (5) Crash pack |
| | (1) stitch medikit, 01x control medication |
| | (4) Mini medical kit |
| | (2) Oxygen tank/ equipment |
| | (3) jelly fish sting kit |
| | (2) Philips AED |
| | (2) Stretcher |

SuRi's interior layout sleeps up to 15 guests in 7 rooms, including a master suite, 4 VIP staterooms, 1 double cabin, 1 twin cabin and 1 convertable cabin. She is also capable of carrying up to 19 crew onboard to ensure a relaxed luxury yacht experience. Timeless styling, beautiful furnishings and sumptuous seating feature throughout to create an elegant and comfortable atmosphere.
SuRi's impressive leisure and entertainment facilities make her the ideal charter yacht for socializing and entertaining with family and friends.

The 208' (63.39m) SURI is a substantial luxury adventure yacht featuring many more amenities and volume than the average explorer yacht of her length and type. SURI has expansive deck spaces and a voluminous interior styled to nautical perfection. With generous accommodations for 15 guests in 7 staterooms, she is contemporarily styled to please.
On the inside, SURI is special. She features a large media room with views to the sea below through floor windows, as well as a "glass house", which can be fully closed off and climate controlled, or opened to become a large outdoor deck. The yacht also includes a massage room and beauty salon for those seeking the ultimate in self-care and wellness. Neutral tones ensure she pleases most design tastes, and an abundance of natural light through vast windows bring the outside, in.
Exterior decks feature an abundance of lounging areas including built-in sofas, lounge chairs, and sunpads. Al fresco dining is optionally covered by a large, removable awning on the sun deck. A vast helideck can double as a dance floor or an entertainment area, while her expansive hangar deck houses her toys, which include kayaks, a speed boat, motorcycles, a hovercraft, hybrid bicycles, and more.
Highlights:
Accommodations for 15 guests in 7 staterooms; 19 crew in 8 cabins
Oversized interior spaces, with a separate media room
Expansive sun deck with ample seating and Jacuzzi
Cigar deck
Glass house with option to fully open or fully enclose with climate control
An oversized hangar deck to house an array of water toys, a speedboat and tender, a sea plane, a fishing boat, and more
Complete Gym
Twin Caterpillar 3508c diesel engines provide a reliable range of 7,400nm at 11 knots
LOA: 209' (63m); Beam: 38' (11.58m); Draft: 11' (3.35m)
Steel construction
Classed to Bureau Veritas
- Exclusions: a A-Star A350 Squirrel Helicopter and all of Owner's art work and personal effects -
"All speeds, capacities, consumption, etc. are approximate or estimated; measurements can also be approximate. Specifications are provided for information only and particulars herein obtained from sources believed to be correct, but are not guaranteed. Buyer should instruct his agent and/or surveyor to check all details for accuracy. Offered subject to prior sale, price and/or inventory change, or withdrawal from the market without notification."