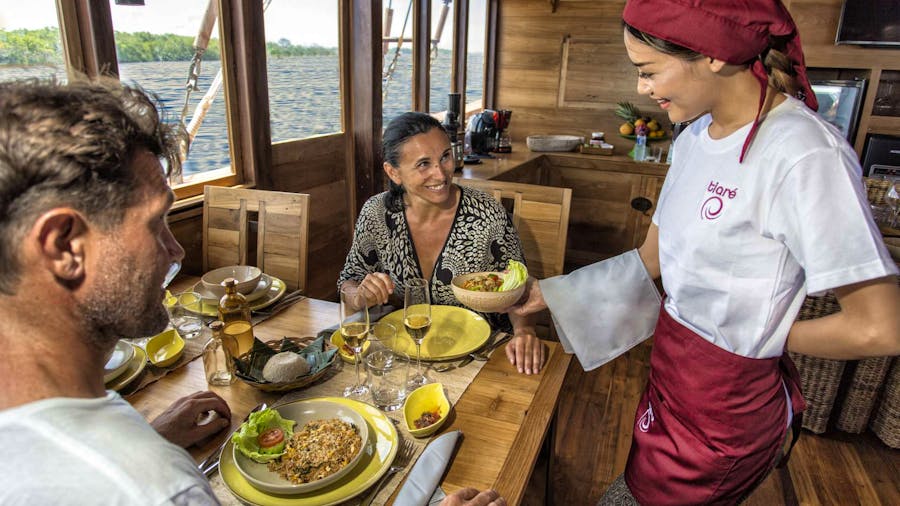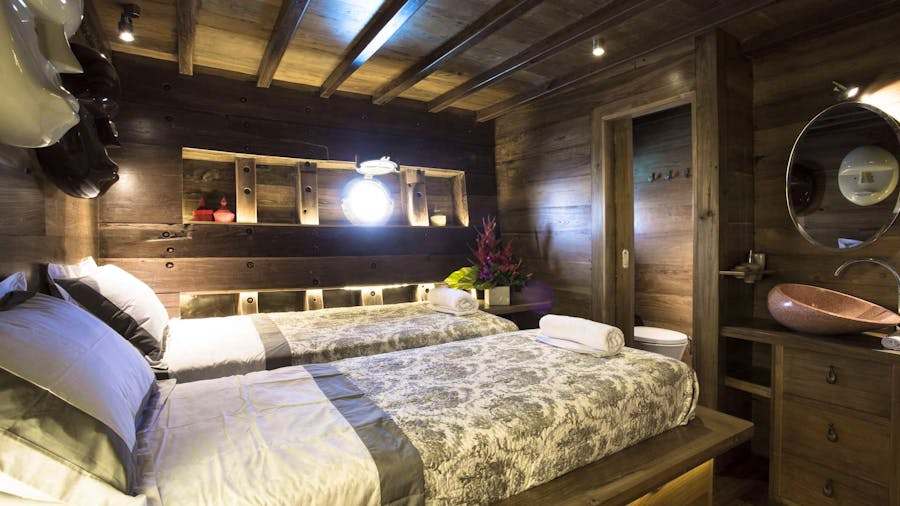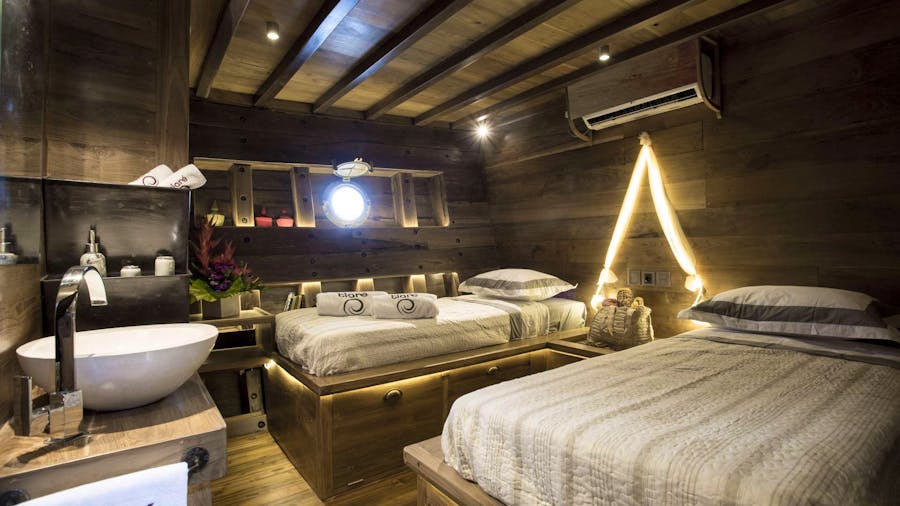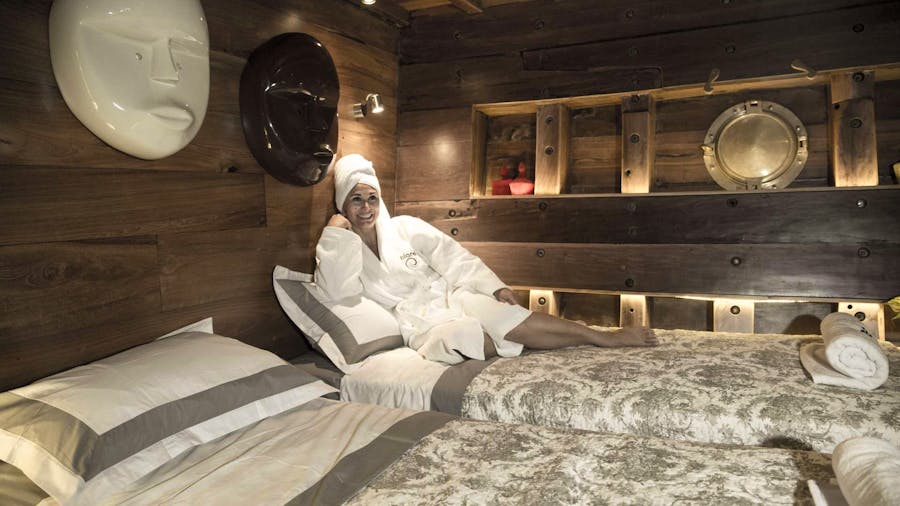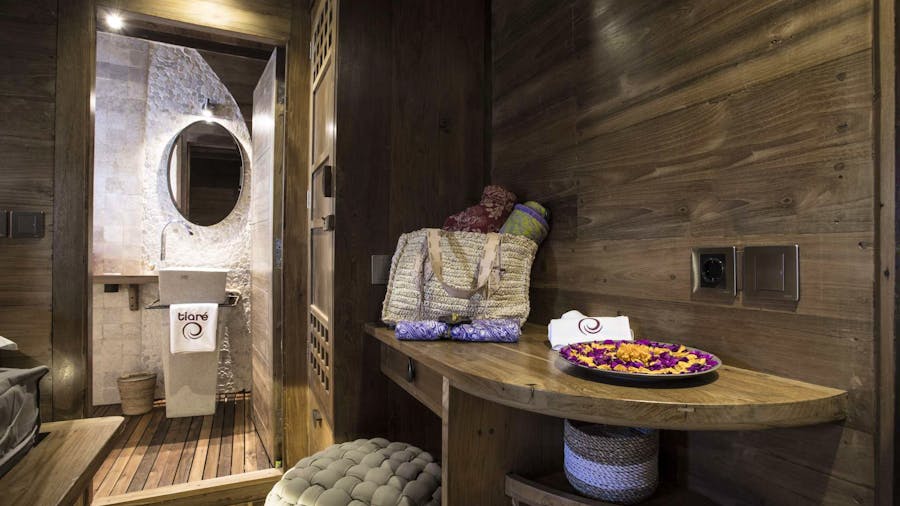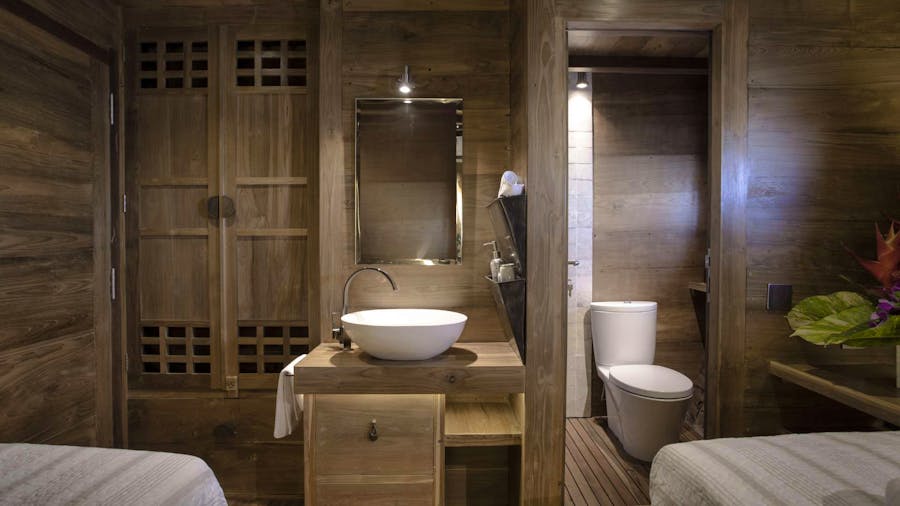 The 154-foot (47m) traditional Indonesia sailing Phinisi, TIARE was launched in 2016. She is the optimal yacht to cruise in unexplored areas in Indonesia.
Sailing yacht TIARE began as the dream of five cousins in Italy; she was realized by the master builders of southern Sulawesi who incorporated careful design, sturdy, beautiful, sustainably sourced materials, high-tech components and top safety equipment to create this striking yacht.
This Phinisi-style yacht is a two-masted topsail schooner with a touch of Italian design. TIARE offers a luxurious dive-focused experience and features elegantly appointed interiors and exceptional amenities, including a spa and a cigar lounge. All living areas, decks, and cabins are built with antique teak salvaged from old Joglos, not only creating a "real Indonesia" aesthetic aboard, but also contributing to the yacht's sustainable ethos.
The main deck's airy main salon has ample space for dining around two tables; a separate library and lounge offers a quiet space to retreat to in the heat of the day. A bar stocked with imported wines and a selection of spirits is a welcome treat after a day of diving and a small cigar store is available for cigar enthusiasts. Also situated on the main deck is a dedicated spa where guests can enjoy a private Balinese massage.
Service aboard TIARE is outstanding as she carries 15 crewmembers, including an Indonesian captain, a foreign cruise director/dive instructor, two dive masters and an excellent chef offering both Indonesian and Western dishes.
TIARE is able to accommodate up to 14 guests in six cabins; all are fitted with en-suite facilities and air-conditioning. Four cabins feature king-size beds and two have an extra single bed; the two additional cabins feature twin beds. In all staterooms, guests are treated to soft linens, ambient lighting and bathrooms complete with environmentally-friendly body wash and shampoo.
TIARE's cruising region includes the most unspoiled and beautiful areas of Indonesia.
Seasonal Rates
Winter Rates
2020/2021 Season. Rates p/week + expenses
Cruising Regions
Features
Sail the beautiful, tropical islands of Indonesia
Large, comfortable, well-designed interior
Spacious cabins with king-size beds
Ideal charter yacht for families and couples
Expansive outdoor lounge and deck spaces
Enjoy scuba diving and nature expeditions
Dedicated camera room
Excellent value; inclusive charter rate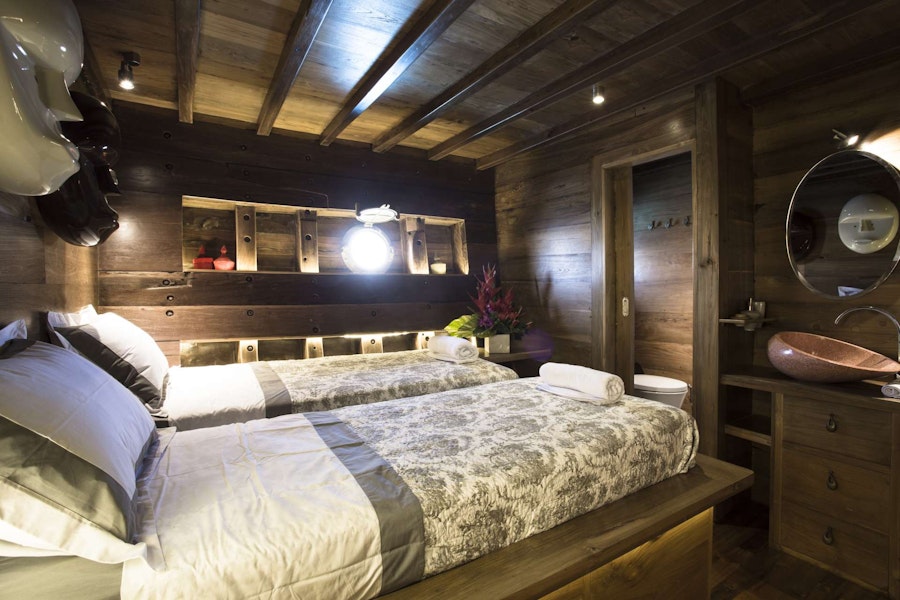 INQUIRE ABOUT YACHT FOR CHARTER
TO CHARTER THIS LUXURY YACHT, CONTACT ONE OF OUR LUXURY CHARTER BROKERS
Related Yachts for Charter
---